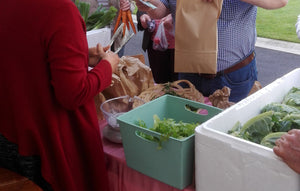 Summerset veg market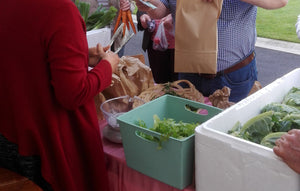 It occurred to me that self-catering residents in retirement villages would also like fresh vegetables and fruit... in smaller bunches or bags, and preferably without lots of plastic wrapping. It seemed likely they would have grown their own veg and appreciate the freshness that comes straight from the garden. It also might be challenging to get out to the Farmers Market regularly.
So we've made a start with a mini veg market at Summerset retirement village. Again, we're taking vegetables from Janefield Hydroponics, Caithness Farm, Vern Paddock project, Oamaru Organics; honey from BL Beekeeping out on the Taieri, fruit from Hobbs family partnership orchard and random things from our garden here. And free range eggs from friends in Taieri Mouth.
We have made a lot of new friends! And I have a great recipe for silverbeet soup to try....also one for lemon curd... I suspect the chance to chat with someone different is as appealing as the fresh fruit and veg. 
Last week we picked up a 10kg box of Billington Plums on our way to Summerset - couriered direct from Hobbs Orchard. By the end of our time there, we had 4 kg left. This week it's Purple King plums and William Bon Cretien Pears - Purple kings are purple skinned, and golden flesh inside. We used to have them in our garden what I was a small person - a great eating plum    (aren't they all?!). Side note : these plums are very different from the Purple Kings we had in the garden. These are big and ruby and clingstone... so now I am wondering how a name transfers from one plum to another over a fifty year period? 
We take round courgettes and tuscan kale, fresh bayleaf and other random things to try. Broadbeans were a hit, this week we'll take them rhubarb and runner beans, cape gooseberries and rosemary...
There's a lot to be gained and it's not all measured in coin.