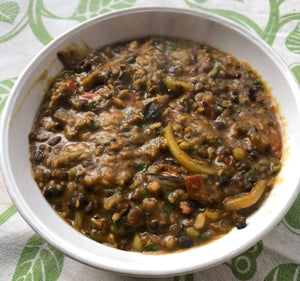 The salt is gone! Recipes for 11th of June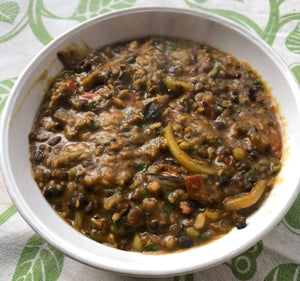 This week I have been isolating due to covid. While loss of taste is a common symptom, I seem to have just lost the salt! (has made morning porridge very odd). So I wasn't able to do any development kitchen this week - not safely! I've found six favourites from about this time last year (so we know the seasonal veg will be in line) which I hope will do the trick for this week. 
First up is Black Dal - this uses Urad Dal or black lentils as well as mung beans, chilli, garlic, some cherry tomatoes (my garden still producing these!) some ground spices and whole spices... It's a very warming dish... have it with flat bread or rice, or a spoon. Vegan, DF and GF
This is a savoury buckwheat crumble with carrot, beetroot, onion and my favourite roast veg, Granny Smith apple, roasted first. The crumble of buckwheat, sunflower seeds and grated cheese is packed on top once the other veg are cooked, and then baked again for a crispy finish. It's really satisfying, and covers loads of nutritional bases as well. For a vegan and dairy free version, break up tofu through the buckwheat and sunflower seeds... Vegetarian, GF
Crushed potatoes are one of my favourite things! You can cook them really quickly in the microwave if you have one  (don't forget to poke them first, exploding potato is not a good time) then lean on them with a masher to break them open, and go from there. The Adzuki beans are lighter on carbohydrate than other beans, don't require soaking and they're quicker to cook (they're smaller) all of which are handy attributes. These are the beans Red Bean Paste is made from (fun fact)... Again, replace the grated cheese with crumbled tofu or yeast flakes for a vegan and dairy free version. Vegetarian, GF
In my early notes this is called Weird Soup... it's an unusual combination of veg I guess: yams, cauliflower, corn, spring onions, lime also. Doesn't seem that weird to me now... So let's go with Corn and Cauliflower soup. It's light but still plenty substantial, only takes half an hour to make from scratch and it's delicious! Vegan, DF and GF (if you omit the yoghurt for serving)
The slow cooked Spanish chicken has big in-your-face flavours: smoked paprika, chorizo, lemon, lots of garlic. And plenty of substance - as well as the chicken and chorizo there are cannellini beans and tomatoes. It's a slow cooker meal if you have one, giving all those flavours time to settle in together and be ready for eating as soon as you get home...Great winter food.  DF and GF...
The Beef Cheeks Bourguinon is also slow food - in the slow cooker, or in the oven for as long as you can leave it. It's the classic - red wine, bayleaf, garlic, mushroom. The Beef cheeks are fabulous in this but if you can't find any, crosscut blade gives you a similar unctuous finish. Serve this one with your favourite mash, or wide pasta noodles or loads of lightly cooked fresh veg to balance out the richness. This one is none of the things, unless you sub Chickpea or cornflour for the flour, in which case it would be GF.
The taste buds will be back at work next week...