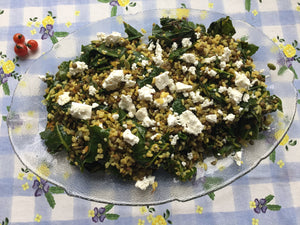 And one month down...recipes for the 28th January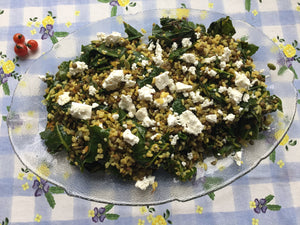 This is kind of a tabouleh and kind of a kosheri ... Bulghur wheat and Puy lentils, loads of spices, and shredded kale to give a whole lot of body... the feta is optional if you're dairy free, but does give a good tangy finish to the flavours. Spicy kale and Puy lentil tabouleh is vegetarian /vegan if you omit the feta, ditto Dairy free but not Gluten free. 
The potato and broccoli smash doesn't look very exciting, but the crispy + tender textures and light deliciousness are a winner, trust me. Vegan, DF and GF
This Hokkien noodle stir-fry is full of seasonal veg, some chilli, sesame oil, coriander. It's substantial enough for dinner, and super quick to put together. Potentially you could use rice noodles instead of hokkien to make this one Gluten free. Is also Vegan and dairy free.
There's layer upon layer of veg in here - red onion and garlic, mushrooms, tomatoes, courgettes and then slices of halloumi that crisp up in the oven. The Tomato and courgette Halloumi bake is vegetarian and Gluten free but not Dairy free.
Chicken Sofrito is fall-apart tender, and very simple. It takes a while to cook but requires no attention during that slow cook. Butterflying a chicken is very easy to do, and makes a big difference to cook time so a worthwhile trick to learn (instructions included...) This one is DF and GF
Broccoli, almond and prawns seems an unlikely combination, so I tried this one out and it surprised me! The flavour combination is very good, the texture contrasts also good (toasted blanched almonds, just tender broccoli, and a bit of chilli on the prawns...); was quick to compile, as each of the elements does its thing simultaneously. I was a bit concerned to see that the raw prawns came from India. I hope you can find some from closer to home... This one is Dairy and Gluten free. Contains shellfish however.