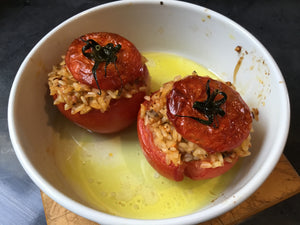 Recipes for 21st of January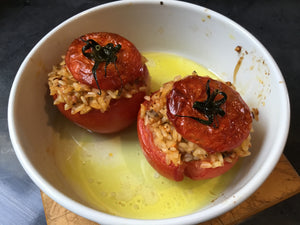 Let's start the way we mean to continue - Tomatoes stuffed with rice  are Gluten free, Dairy free, vegan and very yum. The rice is soaked in the pureed pulp from the tomatoes, with some basil and garlic, then stuffed into the tomato cases and baked. It's very simple and so delicious...
Summery Green Soup uses whatever green you have on hand - spinach, silverbeet, kale, nettle?! Also potato and courgette and the topping of sauted spinach leaves and brown button mushrooms. Texturally fun, flavour very good. This one is also Gluten free and Dairy free (Unless you add a splok of yoghurt at the end) and Vegan.
This is a Radish, fig and apple salad which is exactly what it says it is! It also had pomegranate - fresh and also pomegranate molasses in the dressing, and some mixed salad leaf. It's fresh and light  with intense sharp + sweet flavours and crisp + soft textures. It's a very pleasing thing to eat on a lot of levels... Again, it's vegan, Gluten free and Dairy free. 
The Crispy courgette sticks with fennel hummus is Not vegan, nor is it dairy free (Although you could leave out the yoghurt dip), nor in fact gluten free. .. The sticks of courgette  are dipped in cornflour, then egg then breadcrumbs, then into the hot oil. The Fennel hummus is also very simple - make the hummus from the ground up and add fennel fronds! Vegetarian only. 
A bit of patient pummelling is required for this Flattened pork Fillet - you want to flatten it without breaking up the fibres if possible. The pork is then marinaded in rosemary, garlic, S & P, lemon juice and olive oil...It's pretty straightforward after that. This one is DF and GF
These cute little meatballs can be eaten as party food (Skewer on cocktail stick...) or stuffed into a split pita and eaten with salad; have them as part of a table full of small dishes... pop them in your lunchbox... they are Lamb, apricot and fennel seed meatballs. (dried apricots, turmeric and fennel seeds toasted and ground). These ones are Gluten free, and can be dairy free but the yoghurt drizzle is a very good addition.