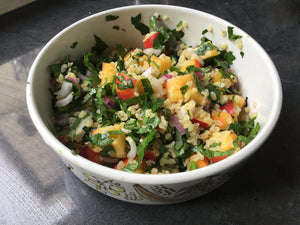 First Locavore recipes for 2023!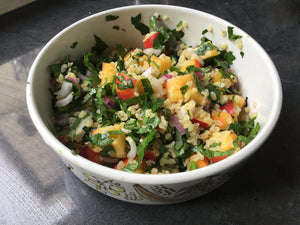 First up is a fresh and fruity tabouleh with nectarines and red onion - it's stacked with fresh basil as well. Vegan, GF and DF
Next is another salad featuring cherry tomatoes, chickpeas and spring onions. The dressing is spiked with salty tangy bits of green olive and mustard. The tomato and chickpea salad is vegan, DF and GF
The third vegan option doesn't have a photo yet I'm sorry! It's a caramelised fennel warm salad (with sweetcorn and capsicum) topped with toasted pumpkin and sunflower seeds. As well as being vegan, this is DF and GF
This week's vegetarian recipe is for a kale and blue cheese pasta bake - self-evidently neither DF nor GF but Very Tasty! The name says it all really - dried pasta, kale and garlic, a creamy sauce with blue cheese, bake in the oven. Vegetarian only. 
This chicken dish is aromatic and tender - spices include cardamom, cinnamon and cloves, there's long grain rice, currants and red onion and a handful of fresh herbs.  The chicken nestles into the rice and spices and steams gently as the rice cooks. YUM: Chicken with Cardamom rice is DF and GF
And finally a Steak Salad - lettuce, radishes, tomato and spring onions with a simple creamy dressing made form the pan juices... and steak, cut into bite-sized pieces so arguably you need less... this one is GF only.