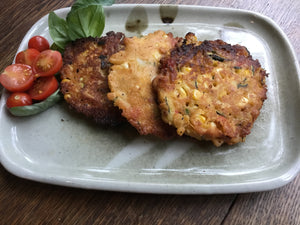 And there it goes ... February? Summer?! Recipes for the fourth week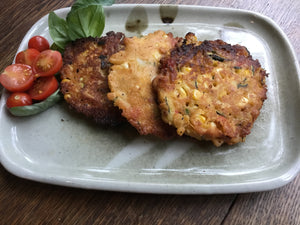 I've been waiting and waiting for Rosedale to have corn available! I hope you like fresh corn as much as I do...First up this week are the chilli and corn pikelets. There are a lot of things starting with C in this recipe: Courgette, Corn, Chilli, Capsicum, chickpea flour... Also milk and egg however, so vegetarian rather than vegan, GF and can be DF depending on the kind of milk you use...
This is a Mushroom and Kale frittata - obviously not vegan, but very tasty and easy to make. Has eggs and cottage cheese...This one is vegetarian and GF. 
The Ethiopian peanut stew is a hearty meal - given how changeable the weather has been, something substantial like this may be just what you feel like! it has cannellini beans, tomato, kumara, peanut butter, garlic and ginger, and some leafy greens. It's very tasty and great served with flatbread. Co-incidentally, there's a flatbread recipe coming up next...
Flatbread with baharat summer veg... the flatbread has chickpeas smashed into it, and the veg are spiced with ... yes, baharat spices. Rather than baking the flatbreads on an oven tray or pizza stone, these are draped over the rack in the oven, giving some wonky shape... Kinda fun... This one is DF and vegan but not GF
The chicken and courgette strips were a bit accidental. I started to make something, and it turned into this which was so good I thought I'd just go with it... The chicken strips are coated in chickpea flour and smoked paprika, the courgette is cut into batons the size of your little finger, and when the chicken is cooked and the courgette softened, you add some chopped tomato. Deceptively simple. Very tasty. DF and GF
The last recipe for this week is without a photo I'm sorry. Normally I file the images and label them clearly... not this one. However, the recipe is for a smoked salmon fish pie, and it's very good. The topping is a combo of mash and creamed corn, there's a layer of broccoli and pumpkin and the salmon under that. Works really well as a complete meal in one. This one is also GF and DF.