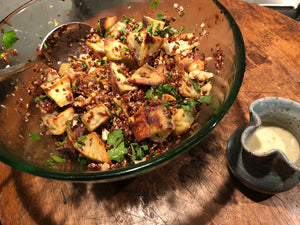 Are we there yet? First week of August and warmer weather!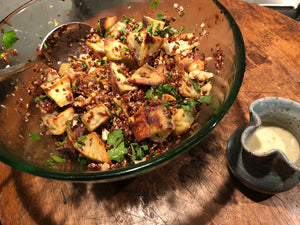 Kumara and red quinoa with lime and dijon dressing...  this is a very good time. The salad also has walnuts (this week's nuts are Hartley, an American variety, coming from our friends at NZ Nuts in Cromwell), some flatleaf parsley, some ground cumin. It might not feel like salad weather but for this one I would make an exception. Vegan, DF and GF
Pasta Putanesca is definitely pasta with attitude! It's loaded with big flavours - olives, tomato, capers, garlic, oregano, anchovies as well if you're keen! And then topped with soft boiled eggs split in two, for plenty of protein. Of course you can leave out the anchovies and the egg to make this vegan. Is DF and can be GF with the right pasta choice.
Okay, this one is also a salad. But it's a WARM salad, with winter veg...Some simple charred brassicas - broccoli and cauliflower - some toasted hazelnuts, avocado, a peanutty dressing that pops with lime and sesame ... It has plenty of substance, loads of flavour and it's really quick to make. Charred Brassica Salad is Vegan, DF and GF
The weather today may be sunny and a bit warmer, but the cold hasn't finished with us yet I'm thinking! So here's a warming stew of lentils and mushroom, served over a creamy mash of potato and parsnip. There's a fresh flavour hit from rosemary and thyme, some chard and tomato paste to deliver on flavour and make sure you eat your colours...Lentil and Mushroom stew over potato and parsnip mash - can be vegan and DF depending on the milk and spread type you use in the mash, and GF
One of my most favourite pie combos was a Venison and Blue cheese pie from the now defunct Rutland Deli in Whanganui. These meatballs are a good approximation of the flavour... Venison and Blue Cheese Meatballs - tomato gravy, fresh oregano; perfect with mash or pasta. The recipe uses minced cauliflower rather than breadcrumbs and this works really well (secret veg). Can be GF if you sub out the flour in the gravy...
This feels like cheating, but actually the Seared pork fillet with Charred brassica salad (yes, the same one above) is a great combination, and I can't remember which came first! This version or the salad on it's own... The fillet is rolled in Morrocan spices and seared then rested while you make the warm salad. Then the pork is sliced and seared again to make sure it's cooked the way you like it. I really like these recipes where the steps in the process fit inside each other like Russian dolls! This one is DF and GF.