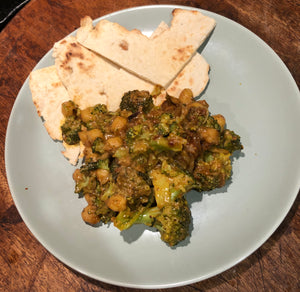 Comfort food for colder weather - recipes for the 13th of May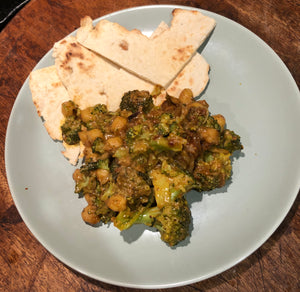 This broccoli and chickpea satay is very approachable... as you can see we've approached it with flatbread, and the nifty thing about these is they're made with coconut milk, flour and baking powder. For a GF version a mix of chickpea flour, brown rice flour and potato starch might do the trick... (Happen to have those on hand...) This one is Vegan, DF and GF with the alternative mix. (Let me know if you'd like this included)
There's quite a long list of ingredients for this curry Laksa with fried tofu - but the first 7 go straight into the food processor to become the curry paste. There's a bit of gentle cooking so this one will take about an hour to make. The recipe calls for Udon noodles, but you can easily sub rice noodles - just cook them in boiling water for a bit before you add them to the laksa. It's vegan, DF and (with the right noodles) GF
Roasted kumara with whole cumin, quinoa cooked in veg stock with some more cumin ( toasted and freshly ground this time), a dressing made with lemon and apple cider vinegar and oil, some roughly chopped hazelnuts ... you can wilt some chard in the final moments of cooking the quinoa for extra colour on the plate! This is light and delicious and really delivers on flavour -  Kumara, quinoa and Hazelnut salad is Vegan, DF and GF
This is a very straightforward vegetable curry - onion, garlic, ginger, curry powder, garam masala, coriander leaf and a pile of vegetables... also coconut milk, Tamari, tamarind and roasted cashews... well that might not sound very straightforward. But it really is, really. Also very tasty, but not too spicy hot. And Vegan, DF and GF. Vegetable Curry with cashews.
Usually Kibbeh is shaped around a skewer, or formed into torpedos. This recipe makes the kibbeh in an oven tray, baked and then cut into squares for serving. It uses fine burgher wheat so not GF,and lamb mince. North African flavours this time, with allspice and cinnamon in the mix and topped with pieces of cashew or walnut. The oven-baked lamb kibbeh is DF.
This one also takes a bit of time (but requires little attention in that time). You cook some of your favourite sausages, then concoct a spicy bean sauce  - only spicy hot if that's how you want it - and cook the sausages very gently for another chunk of time so the flavours really get moving. Is a very good time. Have this one with a creamy mash or crispy toasts or wedges or ... the Spicy sausage and bean stew is DF and GF depending on your sausages!