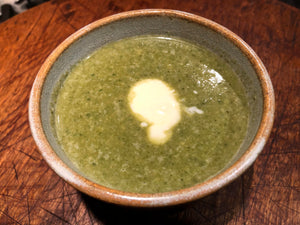 This is winter? Really?! 23 degrees and recipes for the 6th of May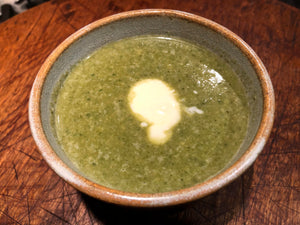 By now you may have noticed I have a very utilitarian attitude towards naming food. This is Green Soup. Because it is... It has fistfuls of green things - broccoli, chard, leek tops, onion weed (nettles if you have them) and also raw cashews which blitz into a tender deliciousness. Is very good... Is also Vegan, DF and GF
I very much enjoy the way the butterbeans in this recipe go crispy on the outside, and creamy inside when fried up. So yum. The sumac onions are a great companion - this one comes from Ottolenghi's Shelf Love book. Butterbeans with sumac onions can be Vegan, DF and GF (or you can use butter, in which case it's not.)
There are still handfuls of cherry tomatoes determined to ripen on my dead plants at home! So let's make the most of them... I left the calixes on but they were a bit fiddly - feel free to remove them before roasting the tomatoes... There's mint, capers, a touch of dijon mustard, chilli flakes and garlic in the dressing, so there's a heap of flavour. Cannelini beans with roasted Cherry tomatoes is really very good. Vegan, DF and GF
How many different veg can you fit in a roasting dish? This week you will have plenty to work with ... parboil them to speed up the process, then toss them in seasoned oil and roast them til crispy, and in the meantime make a sauce with peanut butter, tomatoes, chilli, some garlic, some ginger...  This is very easy food to make, very easy to eat. Is also Vegan, DF and GF - Roasted veg with GadoGado sauce.
A fish soup with Hokkien noodles - miso broth, a few handfuls of seasonal veg, the noodles and white-fleshed fish cut into fingers... takes all of about 15 minutes to make and it's a very satisfying dinner.  Fish poached in miso with Hokkien noodles is DF, you could use rice noodles and then it would also be GF...
Take some chicken thighs, fry them for a bit to give them some colour, melt some anchovies and wedges of onion with some garlic  and then layer that with some sprigs of rosemary, put the chicken on top and bake until the chicken is cooked. Seems pretty straightforward. And it is, but the flavours are very good. Anchovies just make things super savoury, there's a grating of lemon zest and a sprinkle of garlic on top at the end, there's some white wine (or dry sherry if you have it) and lemon juice in the middle to make the braise super tasty. Mmm. A super simple thing to put together, does its own thing in the oven for a bit, then yum and yum. Chicken with anchovies, lemon and rosemary is a very good time. Is also DF and GF!