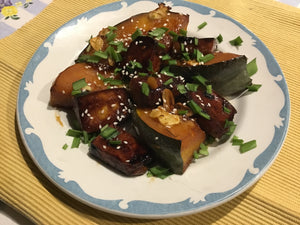 Recipes for the end of April, start of May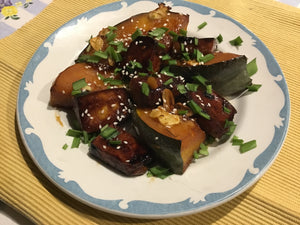 Wedges of pumpkin and chunks of tofu tossed in soy, honey, ginger and oil, then roasted ... Turn them halfway through and add finely sliced garlic to the pumpkin... top with sesame seeds and sliced spring onion (I actually used onion weed - fresh young shoots just coming through in my garden!). And that's it. It was very yum and super easy - Honey and soy roasted pumpkin and tofu is vegetarian (Vegan if you swap the honey for maple syrup or similar), DF and GF
Cooked quinoa, baked beetroot, raw broccoli and kale broken down with sesame and olive oil and lemon (you massage this through the raw veg to soften them for the salad...). It's colourful, tasty, and plenty substantial enough for a meal on its own! Baked beet bowl is also Vegan, DF and GF
This Potato and chickpea curry has a tomato and silverbeet gravy with bay, cloves, coriander and cumin - the chilli is up to you... The Saag Aloo is vegan, DF and GF
The next recipe is still waiting for a photo I'm sorry ... I made this soup the other day and it was just exactly what I needed - light, fresh and sustaining. I ate two bowlsful and felt much better about my day! It's a leek and cauliflower soup with veg stock, a small amount of rice to give it some substance, sesame oil, sriracha and I added fish sauce but obviously you could omit that... Leek and Cauliflower soup is potentially Vegan, and also DF and GF.
These guys are very yum! Minced chicken and sesame seeds with ginger, garlic, spring onion, sesame oil and Tamari... they only take about 20 minutes to make from scratch, pile them up with a salad or steamed veg, stuff them into a wrap or a bun... they're so handy! Chicken burgers with sesame ands ginger are DF and GF
The concept of boiled lamb might not sound very appealing but when you slow cook it this way with aromatics such as cinnamon, ginger, onion and coriander, then you add in caramelised quince and dried apricot... it sounds much tastier! Have this one with flatbread or rice and celebrate the start of winter... Tagine of Lamb and quince,  is DF and GF also.