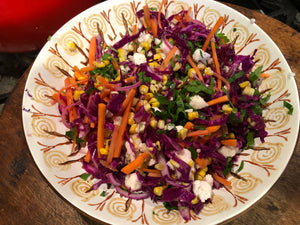 Recipes for the week starting 22nd April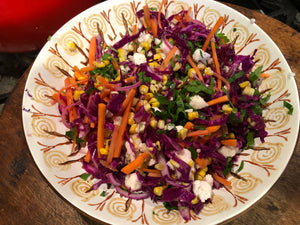 Just can't let the fresh corn disappear over the horizon without using this recipe... Charred sweetcorn Slaw is fresh and zingy, stacked with fresh and lightly pickled veg. It's vegan, DF and GF
I'm saying this is a soup but is very closely related to a dhal - plenty of substance here, with red lentils, tomato and onion, garlic and ginger. Extra flavour from Paprika and garam masala, a pinch of cayenne. This Spicy tomato and lentil soup is super quick to make, full of flavour and goodness... Vegan, DF and GF (Splok of plain yoghurt is just for show really...)
This is a pile of colour and yum on a plate - Toasted hazelnuts and roasted broccoli, sautéed red onion and spring onions, crispy croutons, and then wedges of fresh tomato, radish and slices of avocado... (the courgette wedges in the photo are a serving suggestion!). It all goes together to make a warm Broccoli and hazelnut salad that's a great crossover between summer and autumn... Vegan, DF and GF depending on the bread you use for croutons.
This Pumpkin and polenta chowder has sneakily got all your colours in a single bowl: Pumpkin, broccoflower, spring onions, polenta grits for substance, it does also have milk and parmesan so not DF, but this one is vegetarian and GF!
This dinner is ridiculously easy - a tray of baked or roasted veg accompanied by succulent chicken chunks baked in salsa verde... and it is SO GOOD. A bit cheeky calling it a recipe really... Chicken in Salsa Verde - DF and GF
And finally, one of those meals where you just put one foot in front of the other - you do this, then you add this, then you do this, then you add this... Very well suited to dinner made around homework, reading, games, check-in after work...Also very tasty and accessible to small people. Pork sausages with apple is DF and GF depending on the sausages.