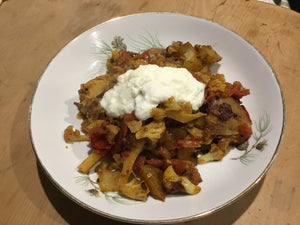 School holidays and a wintry blast - recipes for April 15th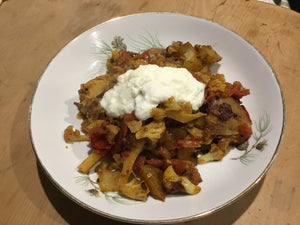 Three curries this week! Guaranteed to warm you up, with flavourful spices and only as much heat as you want to add... This one is Aloo Gobi - a potato and cauliflower curry basically. There are popped mustard seeds,  potato, fresh tomato, cauliflower florets all spiked with fresh ginger and toasted and ground spices. this one is Vegan, DF and GF
These crispy spring onion pancakes are a lot of fun to make - would work as a holiday activity maybe? A plain flour dough rolled out into discs, filled with spring onion and rolled up into a sausage spiral, then flattened with rolling pin... Cong You bing  is Vegan and DF but not GF
Lentil Berbere stew has - yup, you guessed it - brown lentils. Also dried Fava beans, garlic, red onion, chopped tomatoes, Berbere spice blend, flatleaf parsley and shredded spring onions... It's a sturdy winter meal, to be eaten with flatbread or rice - or just a fork actually. Vegan, DF and GF
Savoury crumbles are a bit of a favourite, and this one is a surprise winner - finely sliced fennel bulb, braised gently in veg stock then covered with a savoury crumble  and baked gently, then crisped up once the fennel is meltingly tender. Top with halved cherry tomatoes for a splash of colour and summery flavour. It's vegetarian (Cheese in the crumble) and that's all. 
We had a young man come for dinner whose family had come from Goa.(He was the one who told me you should have as many different curries on the table as you have people around it.) He thought this Goan Fish Curry was pretty close to the real thing, which was very kind. The list of ingredients is a bit daunting but the making process is very step-by-step straightforward and it will take less than an hour. This one is DF and GF
And the final curry is Palak or Saagwalla Gosht - a leafy green curry with loads of flavour but not heat. Whole spices, toasted and ground spices, ginger and garlic, tomato paste and fresh tomato...and a LOT of silverbeet or kale or spinach.  This one needs an hour marinading time and then up to an hour to put together but it is very much worth it! It's GF only.