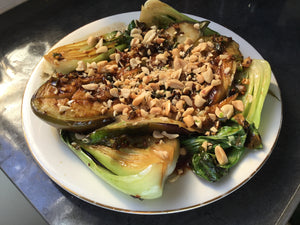 Recipes for the first week of April... Yikes!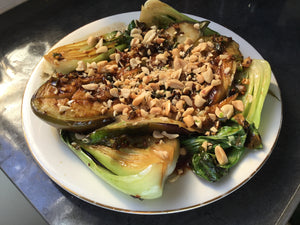 Only got half an hour to cook dinner? Here you go: braised eggplant and Shanghai (pak choi) with peanuts is stacked with flavour, plenty of food value and super quick. Serve it with rice (you can cook that at the same time) and it's all done. Flavoured up with Tamari, sesame oil, spring onions, garlic and ginger and some shredded basil. Yum and Yum. Also Vegan, DF and GF
There's a lot to like about Adzuki beans. They don't require soaking (although this improves nutritional uptake if you have the time), they have fewer carbohydrates than other beans, they're high in antioxidants and protein and they're kinda cute. This Adzuki bean curry is richly spiced - as ever, you control the heat by how much fresh chilli you chop into it! It's got lots of fresh flavours from coriander leaf and tomato and smooth with coconut milk. Vegan, DF and GF
Risotto is my go-to quick dinner and this one is such a cheery colour! Carrot and Pumpkin risotto only takes about 20-30 minutes to make and you could sneak some greens in there if you wanted to make sure everyone eats their colours in one plateful... There's nutmeg in here as well and optionally sour cream or yoghurt to give some tang to the flavour. If you leave these optionals out its Vegan, DF and GF
This silky smooth split pea puree is elevated above the normal comfort food with a buttered onion, caper and lemon salsa. It's so good! Warming, no challenging flavours - and then there's the salsa...This is a delightful combo, and again super quick to make. Serve it with flatbreads, use it as a dip or a soup, your call. Vegan, DF and GF
Chicken and mushroom comfort Pie. Really that's all I need to say... The sauce is thickened by dusting the chicken with chickpea flour (this also seals in the tastiness) and you can make the mash with butter and milk, or with a non-dairy equivalent. So this one is also potentially DF and GF.
I know Daylight saving is about to end, but this dish is a final hurrah to summer flavours! Plain fresh pasta (from our friends at Artisan Pantry) with chorizo, red onion, garlic, courgette, tomato and some shredded kale, and a good dusting of finely grated hard cheese. This is one for a sunny day, or just to remind us of sunny days... it is none of the things. But it is very yum.