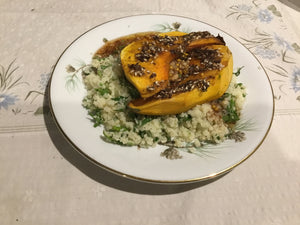 Dinner and lunch the next day? Sorted for the week starting 2nd July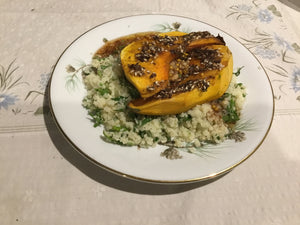 I know the dinner/lunch thing is a thing, because I had this Spiced Roast Pumpkin and Couscous for lunch today, having made it last night. The pumpkin is coated in za'atar and chilli flakes with olive oil, and baked until fudgy... The couscous has a dressing of pomegranate molasses, lemon juice, grainy mustard and more olive oil. Texture and favour combos are Very good. Vegan, DF and GF
Went out for dinner with family this week and we started off with vodka and Borscht... I'm not advocating vodka here, but I was happy to be reminded how good Borscht is! There are a lot of vegetables in here, including of course beetroot, potato, onion/carrot/celery trio, but also dried mushrooms and cabbage...This is a substantial soup and really needs nothing to go with! Vegan, DF and GF
This was a surprise hit... The roasted cabbage is meltingly tender and caramelised, so delicious! The topping is made with toasted breadcrumbs and Berbere spice, and some smashed up frozen peas and mint. It was really easy to make, and quite fun! The contrast of textures and flavours was an absolute winner. Vegan and DF, GF if you have GF bread to crumble...
Mac Cheese does not need to be a guilty pleasure... this Stacked Mac has so many vegetables in it, and it's as quick as making the usual one...not complicated at all. It has handfuls of broccoli, cauliflower, celery, it has red onion and creamed corn... very satisfying and comforting food! Vegetarian, and could be DF and GF with a bit of lateral thinking... (yes, we can do sideways thinking for you)
Chicken and Leek comfort pie really delivers on comfort. And leek. And chicken, mushroom and mashed kumara topping...  you can cook the chicken in the slow cooker while you're out and then assemble it quite quickly when you get home, which is a definite bonus... can be DF and GF.
The Sichuan Beef is another simple and satisfying meal - red onion, capsicum, porterhouse or whichever steak you prefer! and a bunch of flavours to tie them all together in a light and delicious sauce - rice wine, tamari, tomato puree, garlic, ginger, Sichuan pepper, and orange juice...Sounds a bit complicated but it's really not! DF and GF...
Can recommend any of these for lunch the next day if there's any left...