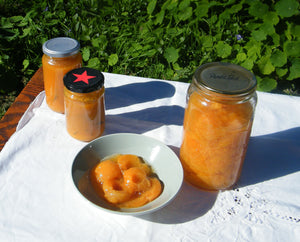 Peeka Apricots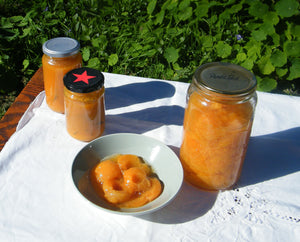 Once upon a time we would travel to Central Otago to pick our own fruit. We would stop in Ettrick and pick boysenberries, stop in Roxburgh for Jimmy's pies at the playground then drive across the top of the Roxburgh Dam and down the other side, to Rae's Orchard where we would pick cherries and apricots - Dundonald Apricots - small, firm and grown for the canning industry.
We moved away from Otago and lived in the North Island, perplexing people with questions about fruit for preserving…. When we moved back, Rae's orchard had closed, but Hobbs Orchard had opened. No Dundonalds, but when i asked about them Mr Hobbs recommended the Peeka Apricots he had planted for the same desirable specs : small, firm and ideal for the canning industry.
We've gotten lazy - or pragmatic - and now most often we ask Hobbs Family Partnership Orchard to ship the Peeka. They are still delicious, full of flavour and they hold their shape well when cooked. Yum.
This year i experimented and preserved the apricots with fresh lavender heads. WHY!? Well, i was eating an apricot while sniffing a piece of lavender and i thought hey! This would work. I was right – the flavour is intense. Want to try some? You may need to wait until next summer, but we can arrange it after that.