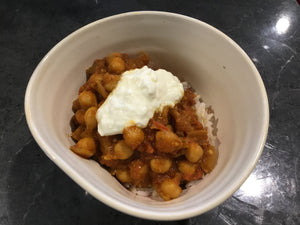 Recipes for 10th of June and beyond...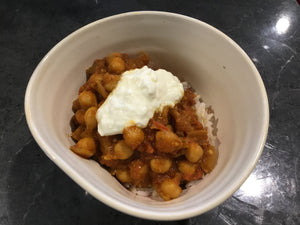 this Chana Masala recipe is from Madhur Jaffrey and it's perfect for this time of year - a multi-layered blend of spices (turmeric, coriander and cumin, garam masala and paprika), garlic, ginger and chilli, tomato, chickpeas of course, and a zingy dash of lime to finish...Is very good! Vegan, DF and GF also.
Where the Chana Masala has zing, this pumpkin satay soup is warm and comforting - it's creamy and gentle, substantial enough for dinner with some good bread and an all-family winner (unless you have someone with a peanut allergy...). It has pumpkin, potato, onion/garlic/ginger, peanut butter and coconut milk and veg stock. Simple and delicious. Vegan, DF and GF.
I agree, eggplant and kumara are definitely NOT local ingredients at this time of year (have friends in Balclutha who are experimenting with growing kumara... will keep you posted!) but this dinner is so good and so beautiful I couldn't resist! Warm Eggplant and Kumara salad is a one dish wonder - it has all the colours and many of the flavours! I've used onion weed tops and it has kale as well as the eggplant and Kumara, sumac, lime, a bit of chilli...  Vegan, DF and GF
This is a great combo - savoury pikelets with parsley and parmesan (or pecorino for DF people) and a pumpkin hash loaded with rosemary and caramelised onion. There are a few substitutions required to make these dairy free (Butter and milk and parmesan in the pikelets) or Gluten Free (Flour in the pikelets) and they are definitely not vegan... Vegetarian only, but if you'd like the substituted version let me know!
This is so simple to make and so warm and delicious - you cut up pumpkin and potato into even-sized chunks, pop it in a ziplock bag with some chicken thighs and some narrow crescents of red onion, some spices and whole seeds (Mustard and cumin) and move that around to coat evenly then leave it for up to 3 hours, tip it into a baking dish and pop it in the oven. Masala roasted chicken is Dairy free and Gluten free, mostly hands-free, and definitely delicious. 
I found some salmon mince one day at a shop just round the corner, and then I mucked about trying different ideas with it.  This soup was a good outcome - it starts out like a comforting potato and onion-based winter soup, but then it has fish sauce, the green parts of a leek, some coconut milk and some lime and the salmon! The Salmon Soup has plenty of substance, but is still light and a bit elegant. It's also DF and GF...