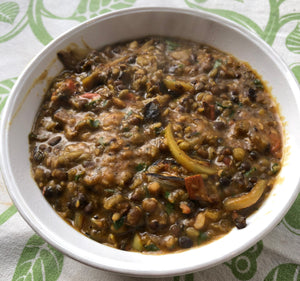 Nearly halfway through the year already!! Recipes for 3rd June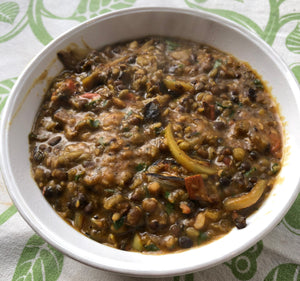 This dal is deeply satisfying - uses urad dal, mung beans, fresh cherry tomatoes (remarkably I still have some), chilli, fragrant spices, lemon and flatleaf. Black Dal is vegan, DF and GF
This photo is labelled Weird Soup, but actually it's a corn and cauliflower soup and it's not weird at all. Later in the year you can add a handful of yams for extra substance and tang but it's a bit early for that... It does have lime juice and grated broccoli, some fresh herbs and creamed corn. It's light, substantial enough for dinner (with bread maybe) and kinda zingy. Vegan, DF and GF also.
Crushed potatoes are a very good thing and of course you can use them with all sortes of meals. This time I've paired them up with an Adzuki bean chilli with mushroom, tomato paste and some fresh herbs. If you can't finish this off with parmesan or pecorino, you could try yeast flakes as a super-savoury option (just let me know and I'll send some along). Crushed Potato with Adzuki Beans is  Vegan, DF and GF.
This is one of those dishes that makes use of whatever you have in the fridge/cupboard: carrots, onions, pumpkin, beetroot, potato, kumara - some broccoli, some roasted cashews, and some cubed halloumi (or firm tofu for vegan version)all roasted up and fragrant with sesame oil. Simple and delicious! Roasted winter veg with Halloumi is NOT DF or Vegan... with tofu it would be both of those. Also is GF
Smoked Fish Pie! Again this is super simple but very warming and delicious, and the steps kind of dovetail in quite a satisfying way. From memory I found the smoked hoki in the frozen fish section... This is a great weeknight family dinner - it's got everything in there, you don't need to do anything else. It's none of the things! Sorry. 
Actually this Porterhouse and portobello pie is quite a bit similar to the smoked fish pie...It has secret vegetables (Pumpkin and leek as well as mushroom) and a rough potato mash on top. This one is GF and can be DF with a couple of substitutions (butter and milk subs). Again, it's less than an hour's work from start to finish and has the whole of dinner sorted in one baking dish.