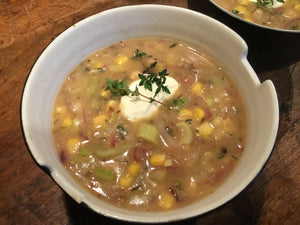 Recipes for the coming week - 19th September, here we come!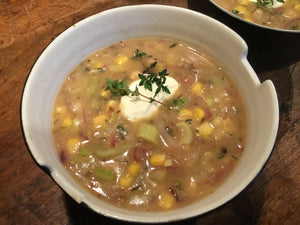 First up is a Kumara and Corn hotpot - spiked with lime juice and chilli, as well as thyme, chickpeas, potato, celery, red onion...It's delicious, nutritious, refreshing, warming/comforting... and very tasty!
 This is a spiced cauliflower and spinach bake - again loads of flavours, fresh and satisfying... it has Indian inspired flavour combos and is adapted from Ottolenghi's traybake recipes, so you can be sure it will be very good...
The third vegetarian meal is a pumpkin and broccoli creamy pasta - not for the dairy-intolerant... it has cream and milk, but you could sub out with coconut milk for a lighter, fresher and DAIRY FREE option...
This lamb korma is also creamy, but it uses cashew nuts to achieve that richness so it's dairy free also.... the complex spice blends and fresh ginger and garlic give it  many layers of flavour, but only as much heat as you want to add.
And finally, a light risotto with  fish steamed on top until only just cooked.... tender, full of flavour and juicy... mmm. Choose a firm white fleshed fish like monkfish, green bone (our favourite) or tarakahi for this. Because you cut the fish into finger-sized strips you don't need much...