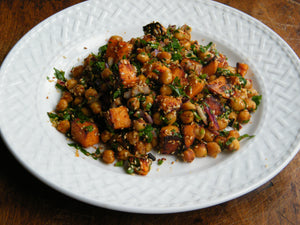 Recipes for the holiday weekend and beyond!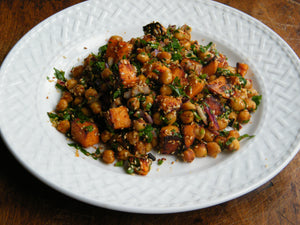 This week I've taken a smart - or sneaky depending on your perspective - approach, using two recipes that can be either vegetarian or not. This first one however is unequivocally vegetarian: Kumara and chickpea salad. It has a bit of heat, some lemony zing, some middle eastern overtones...
This lentil and spinach soup has a similar vibe: stacked  with vegetables, it's light and full of flavour. Has 6 different veg in the ingredients list...
This Moussaka can have minced lamb or not! The mushrooms macerated in tomato gravy, packed with other veg and topped with a  golden savoury egg custard... meat is definitely an optional extra.
Again this Turmeric and Kale Laksa can feature fish ... or white button mushrooms can take pride of place. Either works sublimely well. So potentially there are four vegetarian recipes available to choose from this week... YAY!