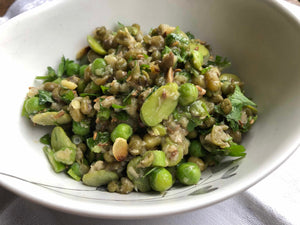 Recipes for the week starting 17th October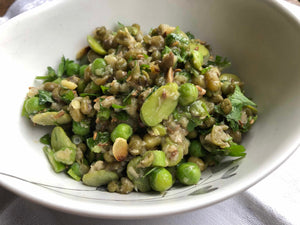 This week I think my favourite recipe of all was the chicken salad... we'll get to that in a moment. But this is a Mung Bean and green bean salad and it was a very close second... The mung beans are cooked not sprouted (who knew?!) and rather than using green beans I used broad beans from the freezer, slipping their grey overcoats off after a quick cook... There are also peas, toasted pumpkin seeds, splashes of lemon - or lime if you want to maintain the colour theme...
These Crispy potato pancakes are quick and easy comfort food. Stack them with a salad or relishes, eat them with a dipping sauce ... They're a winner whichever way you look at them. Or bite them. Potato, coriander or flatleaf parsley, egg and cornflour - very simple. 
Next up is a lentil tabouleh. So rather than using bulghur you use lentils - brown or green - and then load it up with flavours : red onion, lemon, mint, Lebanese 7 spice. It's great piled on flat bread or over rice, or perhaps with those crispy potato pancakes...
This is the Spring Chicken salad - it has quinoa, cashews, chicken, peas, and a fresh pesto of sorrel, spinach, lemon and garlic that's folded through. Again its very quick to pull together (especially if you have some cooked chicken from a previous dinner), it's light and satisfying, the textures are great - crunchy cashew nuts, tender chicken, and fluffy quinoa. Mmm. 
So finally we have Lamb with leeks and cannelini beans. The ingredient combo here may seem a bit unusual, but it works really well! These lamb chops are cooked slowly with leeks and loads of fresh herbs, and then cannellini beans are added halfway through... the meat is meltingly tender, the beans go flaky and crispy, and the leeks just soak up all the flavours ...Yum.
So there you have it. Dinner is already cooked at my house!