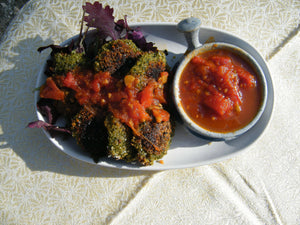 Recipes for the last weekend of June!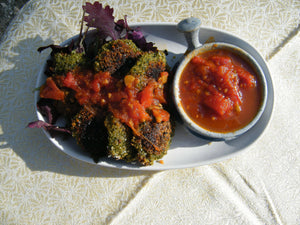 Chickpea fritters sound a lot like falafel... these ones have LOTS of fresh herbs chopped through them, making them a pretty green and a glorious contrast with the tomato puree... These are Vegan, DF and GF.
This is a creamy lentil dhal - not a soup but close to it - and also good for lunch the next day if there's any left... cumin, coriander, turmeric, cloves, garam masala give round and deep flavours; garlic, ginger, chilli and lime deliver even more flavour; there's cashew and coriander, and coconut milk... Lentil and coconut dhal is Vegan, DF and GF.
Leek and potato soup is a winter classic for very good reason: It's delicious, comforting and nutritious. This version has fennel for an aniseed twist, and popped capers for crispy zing! Leek, potato and fennel soup is Vegan, DF and GF.
Cauliflower Cake?! Yup. It has cauliflower and red onion as you can see, turmeric, a LOT of eggs (I'll put those in, promise), parmesan (or hard sheep's milk equivalent) and a rim of white and black sesame seeds. It's quite substantial - all you need with this is a salad! and it stacks up very nicely for lunch the next day too ... This one is Vegetarian and Dairy Free depending on your cheese option...
Salad may not seem like a reasonable choice at this time of year ... but I had radishes, avocado, citrus, parsley and garlic already coming our way this week so...Crispy skinned salmon and radish salad makes the cut. It's quite light, elegant and delicious. You could tuck it into a wrap or have it with some great bread... This one is DF and GF (depending on the accompaniment!)
And some slow food to finish off the week: Slow cooked Spanish chicken - It has smoky flavours - the chicken shares the slow cook with cannellini beans and chorizo, tomato, garlic, smoked paprika and some lemon juice... If you use a slow cooker, the chicken will be literally falling apart when served. Again, this one is DF (If you use non-dairy spread as the vehicle for smoked paprika and coconut sugar on the chicken) and GF ...