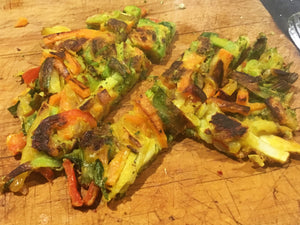 YAY! School Holidays! Recipes for the 1st of July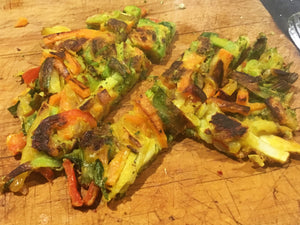 I have been keen to try these crispy vegetable pancakes for ages, and finally got around to them! They are very good. Hard to pronounce, but very tasty (if anyone can give me pointers on how to say Yachaejeon, please get in touch). I've used chickpea flour and potato starch so they're gluten free, and you can use whatever vegetables you have that you know everyone at the table will eat (definitely a bonus feature). They are quick and fun to make, and the making is child-friendly so could be a holiday activity... hard to say, very easy to eat - also Vegan, DF and GF.
Honeyed Kumara and chickpea stew is a great pairing.  Time-wise, you start the kumara simmering with the honey and butter or non-dairy alternative, then you make the chickpea stew, then you serve - so it dovetails quite nicely. Vegan, DF and GF.
Kung Pao Cauliflower! (we have one customer who made this three times in a week they liked it so much ...) This is another sub-60 - only takes about half to three quarters of an hour to make. It's very tasty, full of flavour but not spicy hot... Vegan, Df and GF
You can see that this one is NOT vegan... it is a substantial, full-flavoured vegetarian lasagna with cannellini beans, cottage cheese and tomato passata. The Any-greens pesto is very versatile, featuring cashews, mixed greens, garlic, lemon and parmesan/pecorino. Again, this will take less than an hour, and a lot of that is sitting having a catch up (Or playing a quick board game ). Vegetarian only.
Two things endeared this recipe to me: chicken and rice soup is one of my favourite comfort foods for wintery days, and secondly, this one is called DakJuk - what's not to love?! I'd recommend getting chicken pieces with the skin on for this but it is fine if you can't find any. An assortment of vegetables - celery, carrot, capsicum, perhaps broccoli, spring onions; short grain rice that makes a silky soup cooked down in the broth from poaching the chicken... you get the idea! This one is both DF and GF.
More comfort food - a creamy and delicious Lamb Korma. There are a lot of spices in here: cardamom, cinnamon, bayleaf, garlic and ginger, coriander, turmeric, chilli (fresh so you can add as much as you want). tomato, coconut milk, cashews and Lamb. The Lamb Korma is DF and GF and very yum.