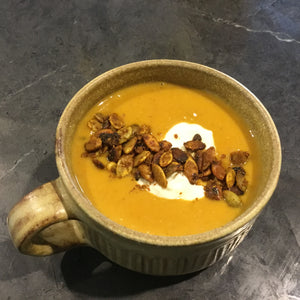 Soup, curry, stir-fry, roast - comfort food for the 2nd week of July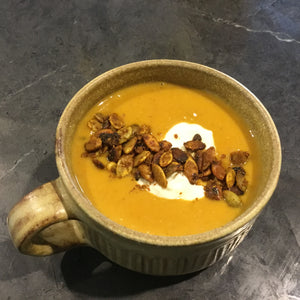 The crispy turmeric pumpkin seeds are a real winner on their own! The curried kumara and coconut soup also a velvety winner - great combo! This takes about half an hour, you can roast the spiced seeds while the soup is cooking. Vegan, DF and GF
This curry is also about half an hour in the making  and sustaining without stodge - Tofu, creamy cashew gravy, tomatoes and frozen peas - so you have all the colours happening in there, just add some rice to go with and you're sorted! Tofu, cashew and pea curry is Vegan, DF and GF.
I like the combination of textures for this one: Silky button mushrooms, crispy water chestnuts. This one is even quicker to make - only 20 minutes! Serve it with rice or flatbread, some lightly wilted veg and enjoy! Mushroom and water chestnut stir fry is Vegan, DF and GF.
I have to admit I was a bit skeptical about this one until I tried it. You cut slabs of cabbage and cook them rather like a steak - roasting them in the oven drizzled with olive oil, and then topping them with  Berebere spiced breadcrumb and smashed peas! You may still be skeptical after that description... but honestly, the cabbage goes meltingly tender and the contrast with the crispy spicy breadcrumbs is very good... Roasted Cabbage with Berbere crumb is Vegan, df and GF depending on the bread you crumble for the topping...
Sichuan Beef is a bit of a classic and for good reason. Strips of porterhouse steak are marinaded in a spicy mix of Sichuan pepper, salt and ginger, chilli flakes and orange juice, rice wine and Tamari... Then sear the beef, simmer down the marinade with some tomato to make a sauce, saute some onion and strips of capsicum, combine and serve with rice. Done! This one is also DF and GF. The Sichuan pepper may make your mouth a bit numb - this is supposed to happen.
And finally Pork noodle soup. I try to avoid more than one soup a week but really, this is a meal in one with a LOT of juice. There  are plenty of fresh flavours in here: ginger, spring onion, crunchy bean sprouts (thank you JiaHe!), lime juice, fresh coriander (thanks Mihiwaka). The rice noodles make it substantial enough for a main meal... again, this only takes about half a hour to make and the process is very simple, step by step (and not so many steps either). DF and GF.