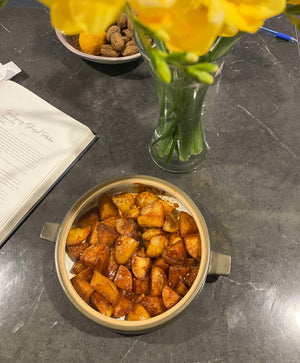 And the holidays are done, back to routine for 15th of July...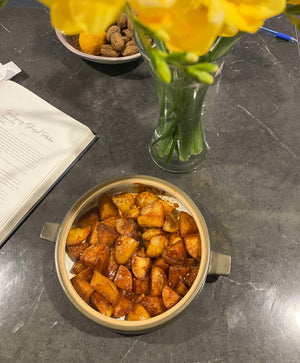 Gochuijang is a Korean fermented red pepper paste that has flavour rather than heat. Gochujang glazed potatoes are a stove top "saute then cover and steam" thing, with the gochujang and a bunch of other flavours coating the potatoes and soaking in as they cook. It's quite hands-off - you do a bit, then leave them, then do a bit, then leave them... This one is vegan and DF, but the gluten component depends on carefully reading the tiny writing on the gochujang packet, to see if it includes Barley malt. (I will take my strong glasses with me).
These crispy red lentil fritters  are great  - half an hour or so to make, loaded up with protein, vegetables and flavour (Smoked paprika, garlic, red onion...) and so crispy and delicious! Cooking them in coconut oil really does make a difference.... Vegan, DF and GF
There has to be a soup, yes? (the Otaki Sourdough is a great pairing, but definitely a serving suggestion rather than compulsory...). This is Potato, leek and cauliflower soup, and that's pretty much it. Has freshly grated nutmeg to finish off - this really does make a difference - a thick and deeply satisfying soup for a quick weekday dinner or lunch. This one is Vegan, DF and GF
Okay, so cut some kumara into wedges lengthways, roast these up with some cumin. Cook some brown rice (with more cumin) and fold through some dried cranberries, some toasted pumpkin seeds and toss in a lemony spiced dressing. Pile this mix on top of the roasted kumara wedges and sprinkle with shredded spring onion or onion weed tops... Kumara with Spicy Cranberry rice. Done! Vegan, DF and GF.
Massamen curry is a Thai spice blend that's warm and round and friendly... Massamen chicken is quick and easy to make, it's a meal in one (has potato and peas, so vegetables are covered...?!) and it's a very accessible meal for a family weekday dinner. It's DF and GF also. 
I was given a book called The Wok and have finally cracked it open to find it's full of Such Good food!  So this week's recipe from The Wok is Cumin lamb stir fry which - as well as lots of cumin - has Sichuan peppercorns in it. As we know, these can leave your mouth feeling a bit numb or tingly, but they also have a floral lemony flavour which is quite unique...The other thing about this recipe is the technique used to tenderise the lamb. It's revolutionary... the recipe is DF and GF.