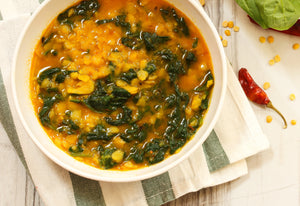 Recipes for the 22nd of July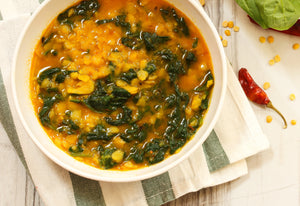 Let's start the way we mean to continue - hearty, stacked with goodness and flavour. Lentil and Kale soup is packed with vegetables and spices (and red split lentils) and it's one of those recipes you can make while doing other things (homework supervision, laundry, chats) as it requires attention only occasionally. Vegan, DF and GF
The pumpkin wedges are coated in Middle eastern spices and chilli (Amount at your discretion) then baked til tender. While that's happening, soften the couscous and make the flavourful dressing - more Middle Eastern influences with pomegranate molasses and lemon, garlic and grainy mustard. Compile. Spiced roast Pumpkin with herbed couscous is Vegan, DF and GF
Normally I would only include one soup each week but for Borscht we make an exception... There are so many vegetables in this thing! (nine - I just counted) and they each add a subtle layer of flavour, as well as making for a soup you can eat with a fork. Level of chunkiness/smoothness is in your hands! The Borscht is Vegan, DF and GF
Dauphin potato is one of my absolute favourite things - Crispy baked top, the silky potato, the way the potato starch thickens the milk, mmm. The other day I made this variant, with leeks and the addition of a slightly grainy dijon mustard. It was VERY good. So I will share - Potato and Leek dauphin is vegetarian and GF.
This is not soup. Really. Chunks of firm white-fleshed fish poached in tamarind broth, with several fistfuls of vegetables - It's  quick, you stack it with the noodles of your choice to give it substance and voila! Dinner is ready... it's in a bowl so you can enjoy the poaching broth later... not soup. Not at all. Fish poached in tamarind broth is DF and GF depending on your noodle choice. (I'll deliver udon or rice noodles, depending on your preference. Let me know)
From fast food to slow food... The Beef cheeks bourgignon will take as long and as slow as you can manage - in the slow cooker on low for the day, or in the oven for at least an hour, preferably more. Onion, garlic, mushroom, either beef cheek or crosscut blade ( if you can't find the cheeks), red wine, tomato paste, bay leaf, stock and lots of TIME. Delicious. Serve with your mash of choice, or those wide pasta ribbons - papardelle. This one is DF and GF depending on your chosen accompaniment.