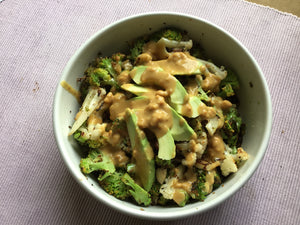 Brassicas - check. Avocado - check... recipes for 29th July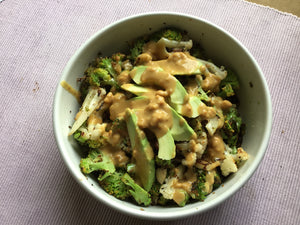 This is a warm salad of charred cauliflower and broccoli, with a peanut dressing. Also creamy new season's avocado. (ripen these faster by putting them in a paper bag with a banana or an apple). Is quick and delicious, also vegan, DF and GF. Charred brassica and hazelnut salad: Yum and Yum.
I've been reading further in The Wok by Kenji Lopez-Alt... These Soy-glazed mushrooms are very good, and so handy! Make more than you need and have them in the fridge to add to fried rice, stir fry, otherwise simple beef dishes... or just eat them with rice. Vegan, DF and GF
This next one doesn't have a photo yet I'm sorry. It's a creamy Roasted pumpkin and coconut soup with a hit of chilli. The roasted pumpkin caramelises with cumin and chilli flakes, some onion also does a slow cook to bring out its sweetness, then add coconut milk to both and blitz to creamy smooth. Very comforting, Vegan, DF and GF.
Crispy potato cakes stacked with secret veg? Indeed. And then accompanied with a roasted parsnip mayonnaise-like dip... these two sets of tasks stack inside each other (we like this) and the whole meal will only take about 3/4 of an hour. There's egg yolk in the dip and as many vegetables in the potato cakes as you feel like grating... Latke with Skordalia is Vegetarian (because of that egg yolk) DF and GF
Slow cooked chicken thighs with leek and mushroom piled into a baking dish, topped with kumara mash that has ginger and grainy mustard. This is a deeply comforting winter dinner... If you cook the chicken pieces in the slow cooker while you're at work it will only take you about half an hour to pull this all together when you get home. Chicken and leek comfort pie is DF and GF.
And finally, some fast food. This will only take about 20 minutes, honestly. Gingered salmon (grilled salmon drizzled with ginger, garlic and chilli) with a green veg stir fry of broccoli, leek and kale... Have it with some flatbread or rice or your favourite potato variant...It will be fabulous with anything really. The ginger salmon with stir-fried greens is DF and GF.