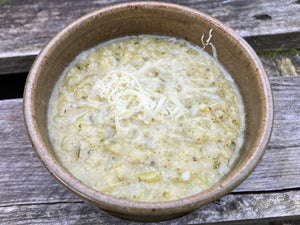 Many comforting things for dinner next week! Recipes for 5th August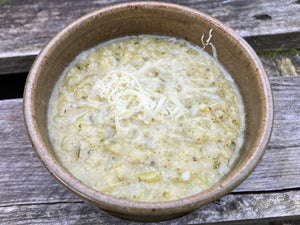 Let's start with this Broccoli soup. It has tiny pasta in it - I had some little star shaped pasta in my cupboard  (just because) or you could use Orzo, or those pasta Alphabets ... or you could substitute rice to make this gluten free. The soup is very straightforward - broccoli, garlic, pasta/rice, veg stock, but it has a hit of nutmeg  at the finish that lifts it into something a bit special. Also as much parmesan/pecorino as you feel inclined to add. The leftovers packed in a jar are looking less like soup and more like vegetarian pasta lunch... it's a win either way. Vegetarian, DF and GF depending on starch and cheese options. 
The lentil and mushroom stew on potato and parsnip mash is as meaty and comforting as it looks! Stacks of flavour, a substantial dinner with almost all your colours... As well as brown lentils and mushrooms, the stew has fresh herbs (thyme and rosemary) tomato paste and chard or spinach, stock and Tamari. This one is vegan, DF and GF
Buckwheat is one of my favourite Gluten free grains - toast it in a dry pan before you cook it and it develops a great nutty flavour...  Buckwheat and Ethiopian kale is what it says on the label - the nutty flavour from the toasted buckwheat is enhanced with sesame oil, and there are onion weed tops or spring onions, red pepper flakes (gochujaru) and sesame seeds for extra layers of flavour and texture. Another plus is that it takes less than 20 minutes to make from start to finish. Vegan, DF and GF.
One of my children (who shall remain nameless) refused to eat quiche as a small person. Spinach pie however was not a problem. This recipe includes making the pastry which is quick and a handy skill for other applications... This one is vegetarian and that's all I'm sorry. 
Black Pepper Beef is another meal in one (No greens here though, so you will need to add some). The beef is marinaded in some oil, Tamari, garlic, ginger and black pepper. The potato and kumara are parboiled to speed up the stir fry. Just remember when cooking the beef strips - DO NOT STIR! Sear them on one side, then flip the lot and cook the other side. This recipe is DF and GF
There is a LOT of flavour in this one - garlic, ginger, dates, Berbere spice mix, bayleaves, cinnamon stick, as well as tomatoes, cider vinegar... and lamb and kumara. Ethiopian lamb curry is deeply aromatic and delicious! Let it cook for as long as you can - either in a slow cooker, or for 2 hours+ in the oven on low... It's DF and GF.