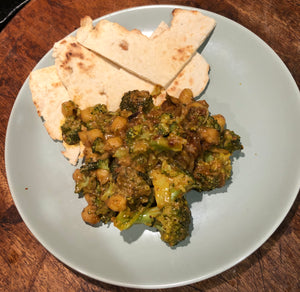 Recipes for the second week of May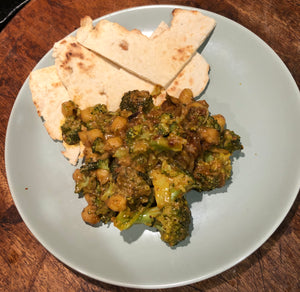 This is really two recipes in one - Broccoli and Chickpea satay, and the very simple flatbreads that go with it. Together they use a whole can of coconut milk (half in each), and a dollop of your favourite Thai curry paste, and another dollop of peanut butter... Vegan, DF and GF
The ingredients list for the Green Soup is very short, but also very flexible: If you have wild onion tops, nettle  or puha, you could use those in here... or broccoli, or chard, or kale... or a combo of any of the above! Nettle is great for making green things Very Green (strip the leaves off the stems, as the stems are a bit stringy). The cashews make it both nutritious and substantial (and kinda creamy)... Vegan, DF and GF
Water chestnuts deliver a lot of crisp crunch to anything, and this Crunchy Winter salad is no exception. Serve it warm with some great bread, or baked potato ... or just on its own! It has brassicas, spring onions and fresh tomatoes, and water chestnuts... Grainy mustard, curry powder and soy or Tamari make the dressing full of flavour and warmth. Serve this one warm... Vegan, DF and GF
Butterbeans with sumac onions and toasted pine nuts - photo still to come! This one is very simple, but the flavours are nicely nuanced... The butterbeans are crisped up in a sauté pan, the onions are caramelised slowly with sumac, delivering sour and sweet in the same mouthful; the toasted pine nuts are just yum. Vegan, DF and GF
So I had some chicken legs - skin on for preference - and some super fresh Swiss brown mushrooms, and some lemon pepper... added some arborio rice, some frozen peas (the only green veg I could find in my kitchen at the time) and some time under a lid... the chicken is basically steamed as the risotto cooks, until the liquid is all absorbed and then the chicken gets some colour from the bottom of the pan. Yum and Yum. DF and GF - Chicken in mushroom risotto.
And finally, Pork and Apple meatballs. These are light and juicy, and absolutely delicious. The sauce is tangy and full of flavour too. You could have this with pasta or a potato gratin, polenta, flatbreads or whatever you like really... is DF and GF.
Hope you have a tasty week...