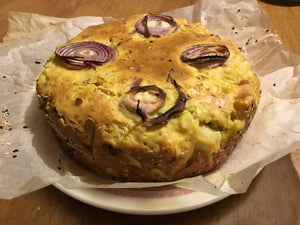 Recipes for 14th of May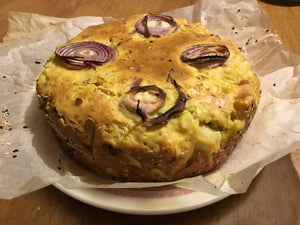 This cauliflower cake needs company - a  warm salad perhaps or a vegetable stir fry, or a big dish of roasties? The cake is not GF, DF or vegan but it is very satisfying to make and to eat! Apparently it's good toasted the next day, with some cheese... Vegetarian only.
The Tunisian chickpea soup has pumpkin, onion, chickpeas, warm spices (Cumin, cinnamon, white pepper, cloves and nutmeg) and some kale. If you'd prefer, just omit the yoghurt added at the end for serving. Vegan, DF and GF
Lentils, lemon, potato, spinach... This is not a soup - more of a stew - a Lentil, lemon and spinach stew. It has enough substance to work on its own, or you could have it with bread - or rice... The meld of flavours is very good -  clear, warm  and light. This one is Vegan, DF and GF, but you could add some plain yoghurt to go with it.
As promised, the photo of a silky Curry Laksa with deep fried tofu just above this text.. The laksa has garlic, ginger, lemongrass and some heat from sambal oelek - I'll leave it up to you to add as much as you like. So it's a spicy smooth fragant soup with coconut milk, rice noodles, bean sprouts and chunks of deep fried tofu. Sublime! but messy...Vegan, DF and GF
This is a very sustaining plate of food! Your favourite kind of sausages, a smoky blend of spices, some fresh chilli, cannellini beans for extra substance. Is a very good time with mash, or some great bread - Spelt loaf perhaps? Again, it's a stew; the longer it simmers away the better the flavours will be. Spicy sausage and bean stew - DF and GF depending on the sausages you use.
And finally lamb shanks with pumpkin mash and broccoli/cauliflower. I put some cooking apples in with the lamb shanks and rosemary to cook down - they mush to make a great gravy! The broccoli and cauliflower is livened up with some sesame oil and chopped walnut, the pumpkin mash has butter and nutmeg. It's pretty celebratory, even if you don't have a special occasion to celebrate - just do it anyway!