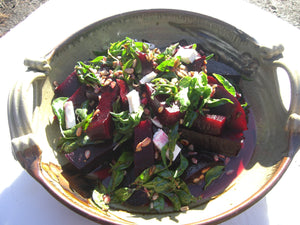 Recipes for the week of the 11th February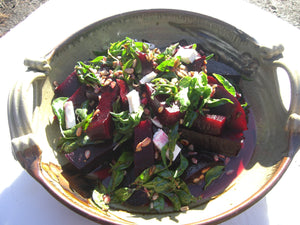 Loads of fresh beetroot about at the moment, so this salad is the thing! Slow roasted beetroot, salad leaf (or the tops from said beetroot if they're suitable), toasted sunflower seeds, a sharp/sweet dressing, and you can add cubed feta of you're inclined. Beetroot and sunflower seed salad is Vegan, DF and GF (if you omit the feta obviously.)
What I like about these flatbreads is that they have chickpeas smashed into them, creating crispy chewy bits and adding an extra hit of protein... the Baharat spice blend makes the summer veg stew warm and complex, and the tasks stack inside each other, making this a very efficient dinner! Flatbread with Baharat veg stew is Vegan and DF but not GF.
Toasted Rice with mushrooms is basically a risotto but made with brown basmati rice other than a short grain, so the texture is different. The flavour profile is built up with red onion, garlic, veg stock, the small brown mushrooms, thyme and parsley. It takes a bit longer than a standard risotto - because brown rice - but is still pretty quick and straightforward. This one is all of the things: Vegan, DF and GF
This one is brought to you by the letter C - it has chilli, corn, courgette, capsicum, chickpea flour, cayenne, and ideally cooked in coconut oil! Does also have egg and milk, so Vegetarian but not DF. Is GF however... Chilli corn pikelets - simple, quick, and delicious!
These lamb racks are an elegant option for dinner, and so easy (we like easy), especially as I happen to have jars of apricots preserved with rosemary already done for you. You sear the racks whole, then braise them in the apricot (unsweetened) which mushes down to make fabulous gravy. That's pretty much it. While it's cooking in the oven you can prep a salad or some potatoes or whatever, read a book, water the garden, check homework... very civilised. Lamb racks with apricot and rosemary are DF and GF.
There had to be courgettes in here somewhere, right? (they're hiding in the pikelets also...). This one is super quick - fingers of chicken thigh meat coated in a mix of chickpea flour, salt and smoked paprika and crisped up in a frypan, with the courgette cut into batons and tucked in between. Once the courgette is starting to soften, you add chopped tomato and that's pretty much it. I fried up some day+ old bread to go with this, lifting all those chicken crispy bits off the pan... yum. Chicken and courgette Strips - DF and GF