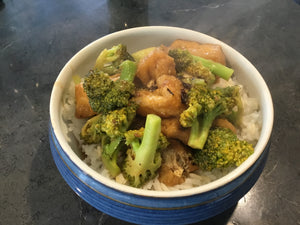 Recipes for the week starting 10th September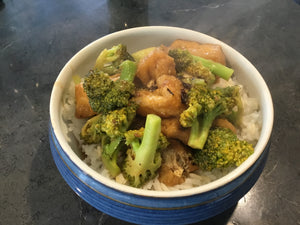 Using deep-fried Tofu from our friends JiaHe Asian foods makes this super quick and easy! It's a Broccoli and deep-fried tofu stir fry, has black bean sauce, rice wine, garlic and ginger , sesame oil and other things in the sauce. Serve it with plain rice (there's plenty of flavour in the sauce to carry the day) or with garlicky noodles. Vegan, DF and GF
Chickpea and carrot satay is warming, comforting, substantial enough all on its own but not heavy. It has garlic, ginger and turmeric, peanut butter and tomatoes, coconut milk, carrots and chickpeas! Only takes about half an hour, so fast food at its best... Vegan, DF and GF
These are finer-textured than hash browns and much tastier! They have egg and coriander, the potato is grated finely to a mush (doesn't sound good but makes them crisp and light!) and the Crispy Potato Pancakes are served with a yum Korean dipping sauce.  Is very good. Vegetarian, DF and GF
This recipe uses every bit of the broccoli - the stem, any leaves, the florets...we also added some Kale leaves to make it greener ... the stem and leaves are blitzed into a sauce with capers, red pepper flakes, garlic, butter (or not butter), parmesan (or yeast flakes for vegan option )and some lemon zest. Cook the pasta, add the broccoli florets, stir through the sauce... All the Broccoli with Pasta - this one is Vegetarian, but not DF or GF unless you make a few substitutions.
This crustless quiche recipe makes a small amount of smoked salmon go a LONG way. The topping is a mix of sunflower, pumpkin and sesame seeds with ground almond. It's unusual, and very tasty! Salmon and Kale crustless quiche - is GF.
and finally Chicken Rogan Josh -  you can moderate the heat by putting in less or more fresh chilli, and there's a great depth of flavour from the spice blend. The sauce is thickened with ground almonds. Serve it with fluffy rice (and a few more curries, depending on how many people you have eating them...). this one is DF and GF.