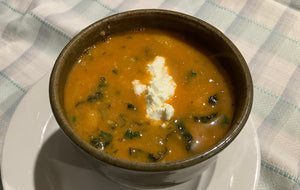 Recipes for the first week of September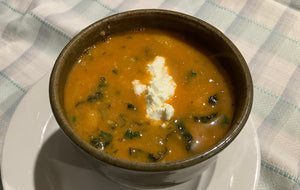 I found a recipe for the classic Tuscan White Bean and kale soup, and then I found this one: it has tahini and harissa, so much more of a Middle Eastern vibe... there's tomato paste and garlic, flatleaf parsley and Cavolo Nero. Is vegan, DF and GF
This is certainly colourful, and those crispy chickpeas coated in smoked paprika and cumin are a very good addition! This is a herbed bulgur pilaf (so not GF), using coarse bulgur - great for texture - I used wild onion tops and flatleaf for the herby-ness and of course the crispy chickpeas! Very yum, good balance of textures and flavours. Would recommend... Vegan, DF. (You could sub buckwheat groats for the bulgur without it messing too much with the flavour/texture profile I reckon... then it would be GF)
These Fiery Chipotle fritters are made with grated broccoli, whole kernel corn, coriander leaf, oregano, thyme, and chipotle (or chipotle in adobo sauce). They're held together with chickpea flour - vegan, DF and GF. 
I was told by someone who would know (thanks Steve!) that there should be as many different curries on the table as there are people gathered around the table. This is one of my favourites, and is a great one to have in your head when working those calculations! Dry pea and potato curry is not spicy hot, but is full of flavour, really quick and simple to make. I managed to sneak cauliflower into this version... Vegan, DF and GF
Made this for dinner the other night, didn't take photos, because it wasn't intended as Dev Kitchen... but it was so yum and easy to make, I decided to send it to you after all. And then I had to make it again for photos... It has lots of leek, quite a lot of butter, garlic, cauliflower (again) and chorizo sliced thinly. Also some cubed feta folded through at the end and some lemon ... It was no hardship having to eat it twice. This one is none of the things. Papardelle with buttered leeks and chorizo.
And finally, a Country Chicken one pot wonder - only takes about 30 - 40 minutes from start to finish, and has all the veg you need, honestly! The sauce is flavoured with thyme and tarragon - both classic friends of chicken - and there's mushroom and leek (no cauliflower this time...) as well as chunks of potato. So plenty of substance, loads of flavour, not much work. we like that midweek... This one is DF and GF although you can choose to add cream for extra sumptuousness...