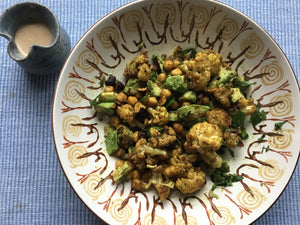 And just like that, August is gone! Hello Spring...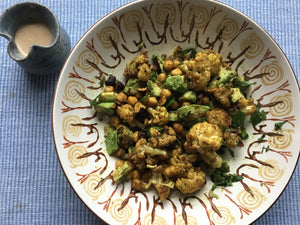 The veg will still be winter veg for a bit, but that's okay. This Spiced Cauliflower, chickpea and avocado with lemony tahini dressing is a nice go-between  - winter veg, lighter salad-y presentation... The spices are paprika, onion and garlic powder and cumin... there's fistful of flatleaf in there too...Vegan, DF and GF
The Kashmiri Vegetable Curry has a deliciously fragrant spice blend - chilli is entirely at your discretion! It uses a mix of winter veg - potato, pumpkin, carrots, cauliflower, broccoli... And some toasted cashews for texture and additional protein (and yum...) Vegan, DF (if you go for coconut yoghurt) and GF
There seems to be a bit of a recurring theme this week... and I'm not apologising for it... Roasted Cauliflower soup - this one is flavoured with lemon pepper, which is one of my favourite flavour pairings with cauliflower! (such a great colour also...). It's fairly substantial as you can see, has potato, onion and garlic to build out the flavour. This is one of those recipes where the steps in the making fit inside each other like Russian babushka dolls... we like those. This one is Vegan, DF and GF - or you can use butter...
The final vegetarian recipe is missing its photo at the moment - hopefully it will be here shortly. It's called Broken Eggs, feels a bit like a hearty breakfast/brunch kind of deal. (You can add chunks of chorizo also, but then it wouldn't count as a vegetarian option...). It has chunks of potato, partly cooked then lightly crushed, fried with some garlic and fresh chilli. You make shallow dips in this once the potatoes are crisped up, and gently slide eggs into the depressions, cover and cook so the egg whites are firm but the yolks still runny... Seemed like a good idea! Vegetarian (maybe), DF and GF
This next one read kind of like a Paella/biriyani cross... It was really quick to make, fragrant rather than hot spicy, and there are sticky chicken-y bits at the bottom of the pan to be scraped up and eaten in the kitchen while no-one's looking. Very easy to eat/accessible for young people also I reckon. (and it's Yellow... what's not to love?) Curried Chicken and Rice - DF and GF
And finally, Black pepper beef - again quick, tasty, with a good mix of veg included - potato, kumara, capsicum, flatleaf, onion. If we could sneak some more green in there you wouldn't need anything more... DF and GF