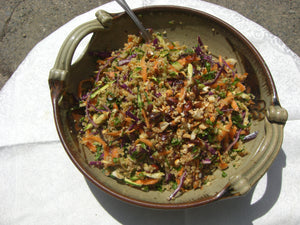 Recipes for the week starting 12th September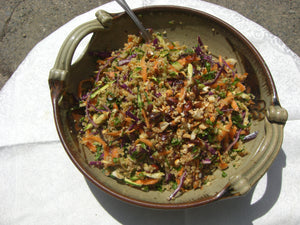 I feel like somehow spring has happened in my head, irrespective of weather. So suddenly there is no soup, and there are salads instead. Hmmm. This salad is a Thai peanut crunch salad - it has quinoa, coleslaw elements, crunchy toasted peanuts, loads of fresh Thai flavours... is very good!
Silverbeet pie - it's not a quiche - is a family favourite. Not quiche - we had one family member who was  very sure she did NOT like quiche. Silverbeet pie on the other hand, not a cause for concern at all. So silverbeet pie has feta, onion, loads of silverbeet, and nutmeg. I'll teach you a sneaky way to make pastry really quickly also. It's going to be great...
This recipe is adapted from one by Ottolenghi, which makes it feel a bit flash! It's a roasted beetroot and sunflower seed salad, and you start by wrapping each beetroot in tinfoil and baking them individually... More feta, some leafy greens, some toasted sunflower seeds... very good!
This is a beef meatball dish with morrocan spices : cinnamon, cumin, coriander, ginger and more. If couscous is not your jam there are plenty of options, including a number that are gluten free: quinoa, buckwheat, rice, polenta, potato...
The final option this week is for crispy chicken strips in tortilla with some crunchy fresh-flavoured slaw. As you can see, I still need to get photos sorted for this one, so they'll be up tomorrow for you... Again, making tortilla from scratch is really easy; I think we had a recipe for tortilla a while ago, so we'll just run a refresher this week...