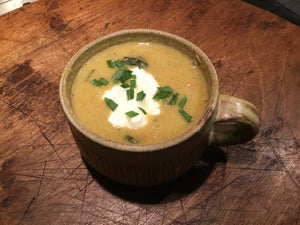 Vegetarian, GF and DF chowder anyone? Recipes for the week starting 5th September.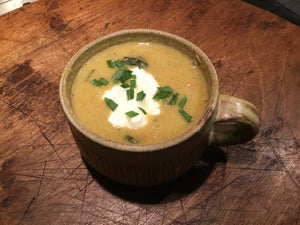 So I made a smoked fish chowder with some smoked hoki I had left after making the smoked fish pie last week, and it was really good. And then I thought, can I make a really good Vegetarian Chowder? The answer is yes. Stacked with vegetables, veg stock, a bit of peanut butter and even some wakame seaweed. Yum.
Next vegetarian option? Cauliflower and leek frittata. This makes use of fabulous winter vegetables, and the eggs that are now coming through from the hens! (so many eggs...)
The spice blend for this Kashmiri vegetable curry is full of flavour, but you get to determine how much heat... Potato, pumpkin, carrots, cauliflower, broccoli - all the winter staples, with extra deliciousness from cashews and coriander !
This is a very comforting and delicious thing - Chicken and Cashew. This is one of those - "what you see is what you get" things - it has chicken and it has cashews. And a bit of broccoli, and some spring onions. 
Is two soups in one week cheating? Don't know.This one is pretty substantial and noodly - it is a Pork Noodle Soup after all. It also has ginger, spring onions, lime juice, bean sprouts... loads of flavour!