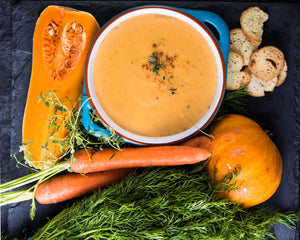 Recipes for the start of September... spring is in the air!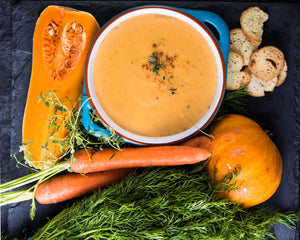 There's always a soup... this week it's Pumpkin and Carrot soup with za'atar. Warming, full of flavour, and Very Orange! 
This spicy vegetarian stew has brown lentils and fava beans, tomatoes, and Berbere spices, hence the name : Lentil Berbere stew. It's very hearty...
Cavolo Nero with quinoa does what it says on the tin... It has Cavolo Nero, and it has quinoa... plenty of nutritional value, quick and very easy to prepare.  Soothing flavours, and even if you're not sure about Kale, this is definitely worth a crack...
Lamb Kofta with Persian tabouleh is quite fun to make, and very elegant in presentation... also very tasty. Once again there is quinoa, both in the kofta and in the tabouleh  - the tabouleh is sparkled up with dried apricot and walnuts, a splash of sesame oil and some lemon....
Smoked Fish pie - the quintessential comfort food! Smoked hoki fillets poached lightly in milk then flaked, a saute of onion, carrot and celery that's turned into a  white sauce with the milk from the fish, a crispy mash topping with egg and butter (or not-butter if you're DF)  and there's some creamed corn in there as well... We've eaten nearly half of this one, just sort of snacking with teaspoons...