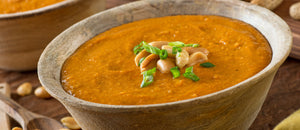 Recipe options for the week starting 22nd August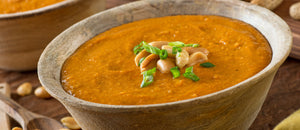 I went to dinner the other night and we had Ethiopian Peanut Stew... and I remembered all over again how very satisfying it is! So here you go - first up for the week! It has kumara and cannellini beans as well as peanut butter... very comforting.
The second vegetarian option is a potato and chard gratin with pumpkin seeds to give it a bit of crunch...
Third vegetarian option is a corn and cauliflower soup... This has yams and lime juice, as well as cauliflower, corn, broccoli, flatleaf parsley and chives... It sounds like a weird combo - currently this soup is called "Weird Soup" in my head, but that may need to change - It's really good - light, tangy, and yet substantial enough for a meal and chock-full of veg.
When you take the backbone out of a whole chicken it's called spatchcocked, or butterflied. It cuts the cooking time by about half, and always seems to deliver a great result. This is Butterflied chicken with paprika and lemon, is very easy but still quite special. Would recommend...
And finally Italian sausage and lentils - which tastes much better than it sounds! The lentils and sausages are cooked in tomato and optional red wine, bayleaves, garlic and onion. Slowly. It's again very easy and the flavours are great!