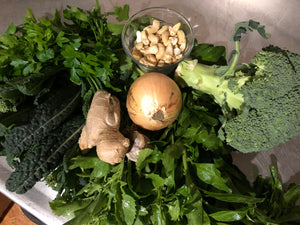 recipes for the week starting 15th August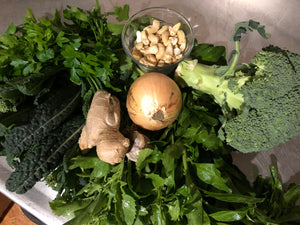 Not everything in the green soup is green, as you can see. But ENOUGH things are green...There's kale tips and some flowerheads of daikon radish  - going to seed up the garden, but they cook up like gai-lan broccoli so it's not all bad! Broccoli, perpetual spinach, parsley, cashews, ginger, garlic and onion...
Next is Kumara with cranberry spiced rice -  a fresh tasting combo of kumara with warm middle-eastern spices and the tang of dried cranberries... (photo to come...)
Continuing in the green theme, the third vegetarian recipe is for Saag Aloo, a potato curry with silverbeet or spinach gravy. This one has chickpeas as well for extra heartiness...
The ginger salmon with stir-fried greens is a good time: quick, and very tasty! It really is just what it says: you marinade the salmon in ginger, you grill it while you stir fry some greens, you break the salmon up over the top of the stir-fried greens....
This last one is slow-cooked Jamaican lamb with kumara mash. Because there are limes! The blend of spices and flavours in this one is a very good time.