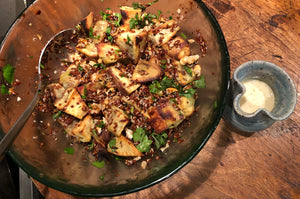 Recipes for the week starting 8-08 , kumara AND yacon. Don't get them mixed up...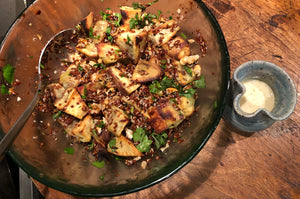 First up this week is a salad of Kumara and Red Quinoa, with a lime walnut dressing. There are chopped walnuts in the salad as well as in the dressing, the kumara is roasted crispy golden... it's a good time!
This soup uses a whole head of cauliflower - but you could make half a batch so you have cauliflower for other things as well. Roasted Cauliflower Soup has lemon pepper to give it zingy flavour hit, and it's a very warming comforting soup altogether. 
This is the Warm Yacon Salad and it has flowerheads from cavolo Nero (works just fine with broccoli), capsicum and chunks of camembert that melt into the salad as it finishes cooking. The yacon looks like caramelised pear, but it's crisp, even when cooked. Would recommend!
The chicken and two tone slaw has a nutty dressing with garlic and ginger hits as well. It's quick, tasty and looks great!
And the last recipe for the week is the classic combo of beef and broccoli, with ramen noodles. Super quick, easy, and it has noodles... what's not to love?