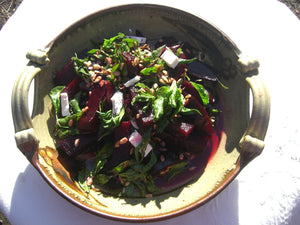 Recipes for the week starting May 16th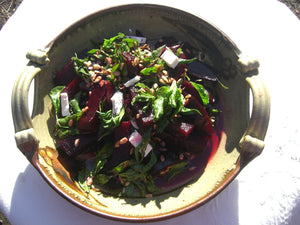 So this week I started with my Ottolenghi recipe book... all of the recipes are drawn from or adapted from this book and they are Pretty Tasty!
First is a Roasted beetroot and sunflower seed salad. I sliced some goat's feta into it as well, and the dressing has maple syrup and white wine vinegar. Kind of sweet and sour beetroot salad.
These are mini crustless quiches with chard and feta - because I figured, if you're getting feta you might as well make the most of it... You don't have to make them mini... Having them crustless makes it really easy to have them GF, and it makes them a lot quicker to prepare.  The minis were a great takeout lunch...
Buckwheat is one of my favourite grains, so I subbed it for the couscous in this recipe which of course makes it GF also. 
So this is Pumpkin and buckwheat with apricots. It's quick to put together, and has a deep spicy flavour with lemon rind to brighten it up ... Very good. 
Next we baked some chicken with sumac and lemon. We already had a pile of salads to eat these with, but the recipe card will also come with suggestions... These are juicy, flavourful and easy to make. We like easy.
Last up is a lamb kofta with feta (on the INSIDE!). These are really tender and yum, you can make them ahead of time and then bake them in the tomato gravy. Mmmm.