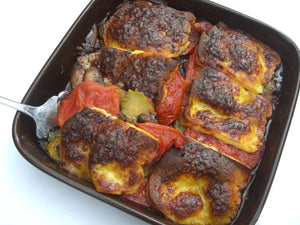 recipes for the week of the 9th of May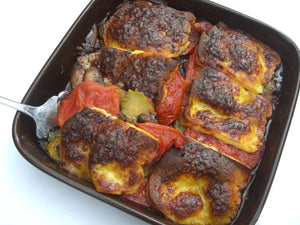 So the Halloumi has been such a good time I thought I would use it in a recipe... First recipe for the week is a tomato and courgette halloumi bake. 
Red lentil Dahl with spicy onions  is pretty quick to make, very comforting - halfway between soup and curry... there is a jalapeño sliced into the onions on top here, but you can leave it out or swap it for the Green Cloud chilli which is very mild. 
Green risotto with roasted carrot puree is a great contrast of colour and flavour. Yes, I used silverbeet in the green risotto, but it's really good. And So GREEN. The carrot puree secret ingredient is an apple roasted with the carrots.
This is a fish chowder with pumpkin and potato, some corn, and coriander, ginger and fish sauce. Very simple and very tasty.
And here is the slow beef with tomato and chilli - again we cooked this in a clay pot on the woodburner for much of the afternoon, but you could equally cook it in the oven, or in the slow cooker...
So that's what  has been cooking in our kitchen and will possibly be cooking in yours next week. I'm looking forward to being able to share all of this food with family and friends... maybe next week? We'll see.