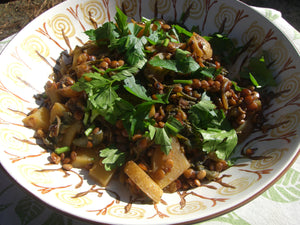 Recipes for the first week of May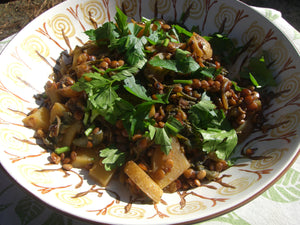 Winter is heading our way, although today it's kind of hard to believe. I suspect next week might be a bit different though, so this week's recipes are aiming for warmth and comfort. Taking advantage of some extended home time as well...
First up, Lentil and Lemon stew (pictured above). this is substantial and a bit zingy. My husband who isn't particularly fussed on lentils, quite liked it! As well as lentils and lemon it features spinach and potato.
#2 Red quinoa and slaw with sumac dressing is pretty much what it says on the tin except that it doesn't come in a tin. A bit of fennel and lemon in this one to brighten up the flavours...
#3 Vegetarian Mograbieh. Packed this in a click-clack and ate it cold as we drove to get produce from growers... and it was still really good! The Mograbieh refers to the pearl couscous. For a gluten free version you could substitute quinoa or short grain rice? It has walnuts and coriander in it too. 
#4 Slow sheep shank with Lebanese 7 spice is ridiculously simple. We put it on top of the woodburner in a clay pot for much of the day, but you could equally cook it in the slow cooker. This needs things to go with it - it's pretty rich, so the quinoa slaw went really well actually. Putting it in a wrap was a bit challenging but worth a crack...
#5 Chicken and mushroom comfort pie. Topped with potato, meltingly tender chicken, mushrooms and a splash of white wine vinegar to cut through the richness of the flavours. It's a good time!