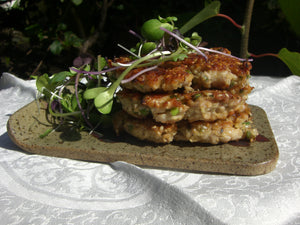 Recipes for the week starting Anzac Day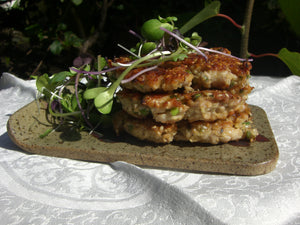 This week's recipes started with the vegetables I was offered by growers ... "You have rocket? Perfect!" "Fennel? Great".
We are feeling very much like autumn now, and slow tasty things are very much top of my mind  - hopefully they will be in yours also, after this. Once again, there will be more photos later!
Chicken burgers with ginger and sesame
This uses chicken mince, ginger and sesame (oil and seeds). The burgers are juicy and light, would go well with a salad or in a bun... your call.
Pork and apple poplettes
Again, a mince dish - economical and easy to extend of you need to. These little meatballs are a mix of minced pork and apple, with fresh herbs, cooked in a tomato-based sauce. You can serve them  over pasta or whatever really!
Winter Vegetable Tian
I made a pie like this once, a more summery version! This variant uses slices of winter vegetables stacked side-on over a base of slow-cooked onion and garlic and then baked. Thats pretty much it actually...
Pasta with rocket and cashew
Rodger from Janefield Hydroponics has rocket, and I thought oh! I have cashews... So we'll make a pesto with those and stir them through some pasta from Artisan Pantry in Kaikorai valley Road. They've made it today, it will be ready Friday. Fresh and local.
Fennel and cherry tomato crumble
Oamaru Organics have fennel, and now so do we...This is a bake with sliced fennel under a savoury crumble topping. When the fennel is nearly cooked you pop a handful of cherry tomatoes under the tinfoil and continue to cook...