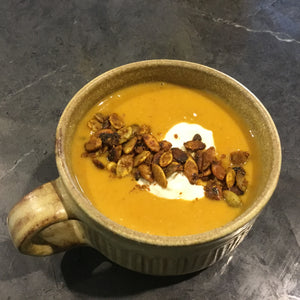 Winter warmers for the week starting 16th July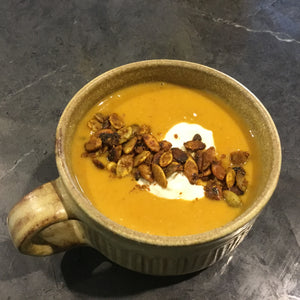 There's a lot of yellow in this bowl - Curried Kumara and coconut soup has Turmeric pumpkin seeds (pepitas), and a judicious amount of warm - loads of welcome - just what you need for a winter's evening...this one is vegan, DF and GF 
The last time we had this Kung Pao Cauliflower, I had a customer who made it three times in the same week, her family liked it that much... I imagine if you have small boys in your household they will just enjoy saying the name! This recipe uses Hoisin sauce which can contain gluten. If you're a GF household remind me to send the GF hoisin... Vegan, and DF (GF on request...)
This Vegetarian lasagna has cannellini beans, tomato pasta sauce, and a great pesto made from whatever greens you have on hand, cashews, garlic, lemon, and olive oil... It delivers on flavour, it's really substantial, and quick to make. has ALL the colours, so you only need to make one thing for dinner... vegetarian only.
Water Chestnuts are one of my favourite ingredients. They're so crispy! This is a simple and delicious stir fry of mushrooms and water chestnuts - additions of ginger, garlic, onion, and the flatleaf parsley that failed to make the photo... It would work as a super quick evening meal with some rice and some steamed veg; also a great option for a simple and sustaining lunch when you're working at home! Vegan, DF and GF
You can of course save yourself a bit of time by buying tortilla... but they're very easy to make and kinda fun... The strips of chicken breast are marinated in smoky paprika yoghurt for a bit to make them extra moist and delicious, then coated in panko breadcrumbs... shred up some cabbage for s simple slaw, mash an avocado to go with.... done! This recipe is none of the things. It is however delicious. Crispy chicken strips with tortilla and salad.
With weather like this there has to be a curry, right? this week it's lamb korma... creamy and deeply satisfying... The creaminess is from ground cashews, the depth of flavour comes from the many spices in this one - whole spices at one point, ground spices added later... it's a simple one thing at a time kind of process with stunning results.. DF and GF.
Yum and Yum... hope you enjoy them as much as I did...