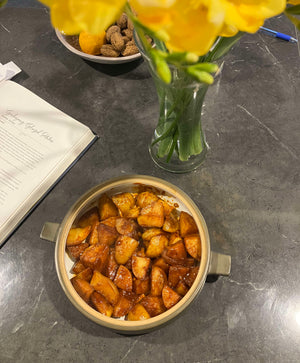 some new flavours and some old favourites...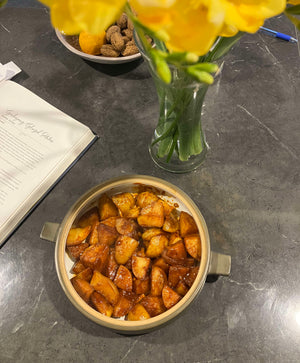 I have a family member visiting and have been introduced to some new flavours as a result! These are Gochujang glazed potatoes and they are very more-ish! Also super easy to make... Gochujang is a fermented red pepper paste (Korean ingredient I think ). Vegan, DF and GF. You get two photos because they are so photogenic...
Next recipe is a great winter soup - substantial and colourful and flavoursome... what's not to love?! Lentil and Kale soup - the name really doesn't do it justice... Vegan, DF and GF
I know, usually the photo is above the relevant text... But I am confident you have it figured out...
Next  is an old favourite - Kumara with spicy cranberry rice. 
The Kumara is tossed in oil and whole cumin seeds before baking in the oven. The brown rice is cooked with ground cumin, and the dressing has Lebanese 7-spice mix and lemon... Is a very good time. This recipe came from Salma Hage's Middle Eastern Vegetarian recipe book - one of the first I borrowed from Dunedin Library's excellent recipe book collection, and I enjoyed it so much I bought a copy. It was just the beginning...Anyway, this recipe is Vegan, DF and GF
When she was young, my youngest daughter refused to eat quiche. Silverbeet pie however was no problem at all... So this one has been in the family food lexicon for a long time now, I hope your family enjoys it for as long as we have...Vegetarian only.
This is the updated photo -  It's gingered salmon and stir-fried kale... The salmon is coated in minced ginger, garlic and chilli and then grilled. The veg - broccoli, leek and kale - are sauted/simmered/stirfried with the same flavours, and a splash of Tamari and rice wine... This is super quick and oh so tasty! DF and GF
And finally pork noodle soup - made with pork mince, rice noodles, a light and tasty broth and as many veg as you feel like throwing into it... DF and GF. Yum.