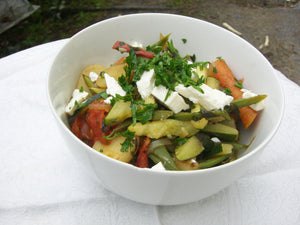 A bunch of Mediterranean-ish dishes for the 3rd week of November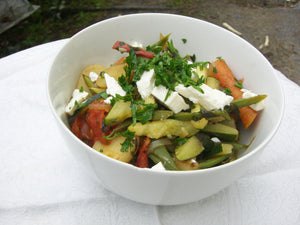 I remember being surprised by just how delicious this Giambotta is - It's a light boil-up of summery veg: asparagus, new potatoes, tomato, carrot, broad beans, with a crumble of feta across the top at the end. It doesn't sound like much but the flavour is great. It's light, quick and delicious. What's not to love?! Also Vegan, DF and GF if you leave out the discretionary feta...
Next is a Broccoli, pearl couscous and chickpea salad - photo to come still... the name is a pretty accurate description! It has a walnut and basil pesto - rough cut - and walnuts through the salad also. Is very yum. Vegan and DF but not GF (however you could sub rice for the couscous...)
This is a take on street food from the south of France - Socca with mushroom and spinach stew. The Socca is a cross between a pancake and flatbread, made with chickpea flour. It gets crispy on the outside, and is creamy in the middle... very good! Vegan, DF and GF
Discovered to my dismay that I don't have normal sized muffin trays in my kitchen - either minis or Texas muffins only! So these would be best made in a normal muffin tray I reckon - Texas was a bit giant. They're parmesan potato stacks - very quick to put together, and then they do take nearly an hour to bake to crispy perfection... potato, parmesan, red pepper flakes, melted butter or olive oil, S & P... easy! These are NOT vegan but are vegetarian and GF. Also very tasty. You could just have these and a salad and you'd be sorted, honestly. 
My oven is so slow that this Lamb Schwarma took all day to cook! Would have been quicker in a slow cooker... However the result was worth the wait...You could have it in chunks with new potatoes and salad; tuck it into a pita pocket; I added it to saag gravy on the second day and that also was a very good time... GF and DF
The Teriyaki Salmon rice bowl is a bit flash - deceptively so. Not hard to do at all and looks very impressive, tastes great. Probably even good for you... We'll do it with Brown rice just to make sure. GF and DF
And there you have it...