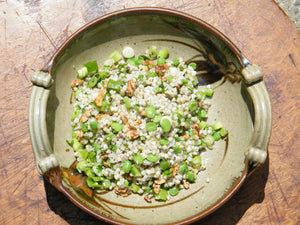 Last week of November - summer here we come!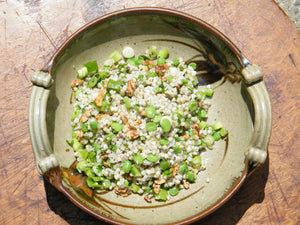 Let's start the way we mean to continue - with a celebration of our favourite season's veg: This deceptively simple salad has Broadbeans and Buckwheat,  with radishes and walnuts, and a light zingy dressing. There's tender, there's crunch, there's heaps of great nutrition, loads of colour... Vegan, GF and DF
This Thai quinoa and peanut salad is basically a very fancy coleslaw - new season's cabbage, quinoa, roasted peanuts, carrot, spring onion, coriander...you get the picture! Peanutty dressing to go with, is very good. Vegan, GF and DF
This took very little time to put together, and it was so good I did it again  - slightly different veg, same idea. The first time was better, 'cos the first time had asparagus...Fresh pasta with veg and egg - the version pictured has rocket, baby broadbeans, tomatoes and basil... The earlier version had asparagus and tomato. Cook the pasta, with the asparagus or beans... drain, add other veg to wilt. Beat an egg, and add that plus a dollop of cottage cheese, mix through, return to heat until slightly custardy. Parmesan optional but good. Done. And Delicious. Vegetarian.
These courgette cakes are flavoured with lemon balm which is a bit genius. They're made with ground almond rather than flour so gluten free, but they do have parmesan so not vegan. Sublime... Vegetarian, DF, GF
I made this meatloaf in mini loaf tins, which was very cute. You could use even smaller ones, or muffin tins for bite-sized lunch treats... I used high quality pork sausages (squeezed out) rather than  packet sausage meat... you can control the amount better and the results are also better. Can be GF, and is DF
The final recipe for this week is yet to be photographed I'm sorry! It's a chicken and new potato salad with a rough-cut rocket and lemon pesto. Thats pretty much the whole story right there... Crispy cubes of chicken, chunks of minted new potato, cashews and rocket with lemon in the pesto... Yum! GF and DF