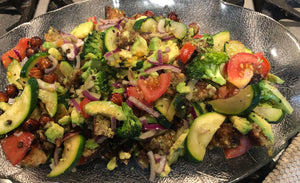 First week of December - it's all downhill from here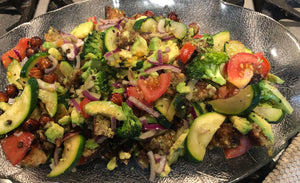 Toasted Broccoli and Hazelnut salad - has lightly cooked courgettes and red onion, fresh tomatoes, crispy croutons, creamy avocado - heaps of textural contrast, great summer flavours! Vegan, GF(depending on the bread you use) and DF
This is very simple, but so good: you make a lasagna "meat sauce" with eggplant, and then instead of pasta you use thin long strips of courgette - Eggplant Lasagna with courgette ! If you use nut milk and chickpea flour (or some other GF flour) to make the béchamel it can be Vegan, GF and DF...
This recipe for Pulled Jackfruit  tortilla is a real winner! The jackfruit cooks quickly and is stacked with Caribbean spices; the salads are fresh and quick to prepare, toast up the tortilla as you go for straight to plate deliciousness...
This is Hunza Pie and its one of my favourite recipes! (I like the name too...) It has great texture with red rice giving a satisfying bite, and the cottage cheese is light and creamy...Has two types of cheese so definitely not vegan but is vegetarian and GF. 
The Philippine fish soup is a very light meal - and that's quite welcome as we start to head into rounds of end-of-year-other-people-making-your-food... So it's light and satisfying - ginger and nam pla, garlic, lime, tomatoes and fresh greens, broccoli. Plenty of substance, no stodge. GF and DF.
The first recipe I tried for the Ma Po Eggplant was very salty, so I've cut it back to a more manageable level, substituting chilli flakes for the sambal oelek and adding spices to amp up the flavour rather than saltiness. 
The wedges of eggplant are roasted while you make the meat sauce, so the timeframes are compacted which is good.  GF and DF.
There you go!