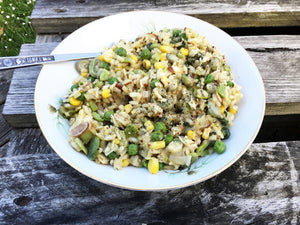 Recipes for the week before the week before Christmas....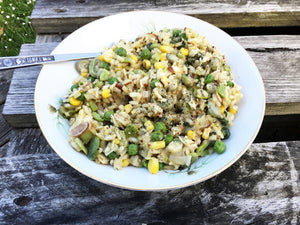 This is what happens when you have a large pile of broadbeans sitting in your kitchen... Well, this is one of the things that happens. Broadbean and lemon risotto with flaked almonds. The almonds make for an interesting textural twist, and I added some cream right at the end to make it, well - creamy. 
When there's asparagus you have to make the most of it.... Here it comes with a garlicky butterbean hash and salad of your own devising... The butterbeans are creamy and a good foil for the fresh crisp of the asparagus. Is a good time.
This is one of those curries that you can make with whatever veg you have in season... this time round it might be broad beans or fresh peas, courgette and silverbeet... perhaps some baby carrots... so its simply a Vegetable curry with Cashews
We've had some lovely spring cabbages lately, so here's a thing to do with those: Stuffed cabbage leaves, in a spicy tomato puree. The leaves are stuffed with a spiced brown lentil mix, and then baked in the oven lapped with that spicy tomato puree. 
New book, new Inspo: this is a warm salad of Prawns and Orzo with peas and herbs...  We have fresh peas coming from Caithness this week, so I thought we should enjoy them... This seems a bit flash, but you only need a small handful of prawns per person and also it cooks really quickly! We like that. 
and finally, again from that new book, Pork with fennel two ways: the pork steak or fillet is dusted with ground fennel seeds before cooking, and then Florence fennel is cut into wedges and braised in the pan juices + some stock. The liquid reduced Very Quickly, so I didn't get much to drizzle over the top! But you get the idea...