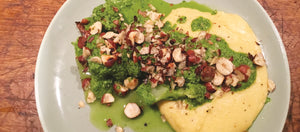 And then March is nearly gone... recipes for the last week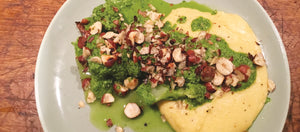 This first recipe has a pesto made with hazelnuts and rocket, some broccoli, and soft polenta... So Broccoli with Rocket and Hazelnuts. It's not DF unless you make the polenta with plant mylk. (we can supply that ...). So vegetarian, and GF
These Crispy potato pancakes are - well, crispy. The fresh corn pickle is a great companion for this and many other things, is really quick and easy to make. This one is vegan, DF and GF
the Morrocan spiced pearl barley salad has dates and dried apricots, loads of crisp veg and warm Morrocan spices. It's substantial, but not heavy... Vegan, GF and DF
Over Christmas I indulged in a flurry of recipe book buying... this recipe is adapted from Nigel Slater's Greenfeast book - it's a pumpkin, paneer and cashew curry.  Flatbread is the recommended companion, so I'll pop the recipe for that on the info sheet in every box. This is vegetarian and GF - has cream and paneer, but you could arguably sub tofu and coconut milk to make it vegan.
Bacon and Corn Chowder is a great option - and this one has chunks of chicken breast as well, fresh Italian flavours from oregano, tomatoes and chilli as well as broccoli - it really is a meal in a bowl/cup. This one is DF and GF
The Braised beef with pappardelle is slow food. The list of ingredients may look daunting but really it's very simple - you marinade the beef overnight, then you sear and sauté a bunch of things and stack them into the slow cooker and leave it to do its thing. Few things could be simpler. Or tastier. Is DF.
And that's it for March!